Mon, 03 January 2022 at 2:49 pm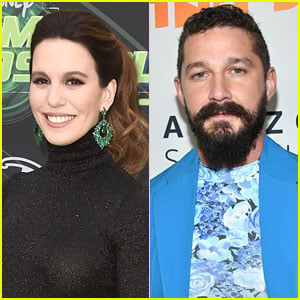 Reboots have become a big thing, bringing back past characters all grown up, and then some.
Disney Channel favorites have also seen a resurgence, like Raven's Home, seeing Raven and Chelsea as parents, and the short lived, never released Lizzie McGuire reboot, that would have seen Lizzie turning 30.
Another Disney show that will not have a reboot though, is Even Stevens, says star Christy Carlson Romano.
Find out more inside…
A main reason that she revealed why the show wouldn't make a comeback is that her co-star Shia LaBeouf, who played her brother Louis, wouldn't return.
"Let's be real, we're not going to get Shia LaBeouf back to do Even Stevens, like he won't even come to parties to do reunions," she says in a YouTube video. "And as much as I'd like to think that it would be an artistic endeavor for him."
However, she does think they could do it without him.
"I also just don't think that we would need him for it. Sure, he made the show. He absolutely made the show. But he was also a part of an idea which was represented in two talented young kids that were brother and sister," she added.
"I think he's also problematic at the moment. I think it would be really cool to see him kind of go back to his roots because like when he did his whole reaction artistic piece, he seemed really kind of sweet about his experience with that," Christy continued. "I also think he's grown beyond all of that, because let me tell you, like pretty much everybody I think would come back."
"I don't know if Margo Harshman [who played Tawny] would come back. I don't know if she would have to, because, you know, Shia's character wouldn't really be there."
As for how an Even Stevens reboot could work and what it could look like? Christy did offer some ideas!
"You could do [the sibling dynamic] with a new generation of kids. But if it's not ratings bait, it's probably not for the health of the channel, and then you don't even have anybody," she says. "Well, you could use me. I would be willing to do it, but I do think that it would be tricky. I just don't know how you would interpret the Even Stevens show for it to become a ratings bait."
"I guess a continuation of Even Stevens would be like I would be somehow integrated in the important part, so I'd be the mom or something, and there would be two kids that are siblings, whether they're my kids of not. I don't know," she adds. "Maybe I'm a principal and they aren't my kids, but that there are kids that aren't getting along and their dynamic is similar and you can gender swap them."
"If the reboot doesn't happen, it's probably for the best," Christy said. "I would love to figure out the right project for everyone to get back together with. But right now, I don't have the time to try to figure that out. So if you have a great idea, let me know. I can't be doing this on my own."
Check out her full video now!
ICYMI: See Christy Carlson Romano's most viral videos of 2021…
Like Just Jared Jr. on FB