Thu, 13 January 2022 at 12:48 pm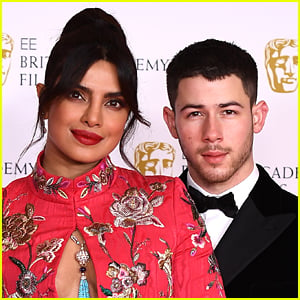 Nick Jonas and Priyanka Chopra are opening up about their lives together in a new cover story.
The 39-year-old actress is on the February cover of Vanity Fair, and the couple, who have been married for three years, dished on maintaining privacy in their lives and when they would be starting a family.
See what they shared inside…
"We both know that public life is something that comes with what we do," Nick shared. "But we've set real boundaries around our personal lives, our privacy, and worked really hard to create that little safe haven for ourselves with our friends and family."
On the subject of starting a family, Priyanka admits that they're not really in a rush, and jokes "we're not too busy to practice."
"They're a big part of our desire for the future," she adds about having kids. "By God's grace, when it happens, it happens."
She also says that they're both quite okay with slowing down their busy lives when they do have a child.
"I've always been such a worker bee," Priyanka adds about keeping busy. "My priority has always been the next job. I'm a very, very ambitious person. But I think the woman in me is craving balance. I'm craving my family life. I'm craving being able to do things for the soul that I didn't do because I was just 'blinders on' and working."
If you missed it, Priyanka has opened up about having a long distance marriage with Nick.
Like Just Jared Jr. on FB