Fri, 14 January 2022 at 4:16 pm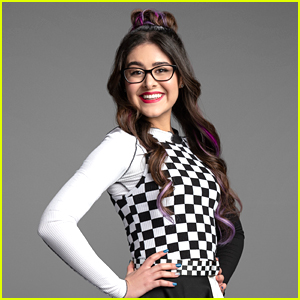 Ariana Molkara is returning to Nickelodeon in the upcoming new series Warped!
The young actress will be playing Darby, a smart and fashion-forward friend who is always there to lend a hand, in the comedy.
Keep reading to learn more…
Warped! follows Milo (Anton Starkman), the beloved head geek at a popular strip-mall comic book shop, Warped!, who finds his world disrupted when his boss hires a new employee.
With the quirky and excitable Ruby (Kate Godfrey) now on the payroll, the two form an unlikely alliance to create the world's greatest graphic novel. Joining them in their adventures are Darby (Molkara) and Hurley (Christopher Martinez), a neighboring pizza shop employee who spends his time coming up with brilliant culinary creations.
VIDEO: Watch the trailer here!
You may recognize Ariana from another Nickelodeon series, Nicky, Ricky, Dicky & Dawn, where she played Sadie in several episodes. She's also been seen on Speechless and Andi Mack.
In anticipation of the new series, JJJ spoke with Ariana and learned 10 Fun Facts about her. Check 'em out below!
1. I am a trained opera singer. I have been receiving my classical training with the Royal Conservatory of Music since I was 12 years old. I also sing and write a lot of pop/R&B. I haven't officially released any of my original music yet, but it's something I hope to do in the near future. I'm writing and singing all the time. Anyone who knows me knows I turn everything into a song. Music is my form of emotional release.
2. I am OBSESSED with Boba. I try to be moderate with my Boba tea intake, but I've gotta have one at least once a month. My favorite milk tea flavors are matcha, honey dew, and ube.
3. I am a total nerd. I love school and I'm a huge sucker for note taking. There's something really therapeutic about taking aesthetically pleasing notes. My favorite subject in school is math, but I pretty much enjoy all subjects-except for science. I graduated high school in 2021 and I'm super excited to be a University of Pennsylvania Quaker now. I'll be studying at the Wharton School of Business.
4. I'm a big musical theater fan. I started out doing musical theater. My mom enrolled me in a local musical theater company when I was six years old and I fell in love with it right away. My all-time favorite Broadway show is The Phantom of the Opera and it's my dream to play Christine Daaé on Broadway one day.
5. I'm a bit of a psychic. I can't see into the future or anything, but I get an impulse before major events in my life and I find myself randomly thinking of someone just before they come into contact with me. It has happened far too many times to be called a coincidence.
6. I am terrified of traveling by plane. I've been on a plane more times than I can count with my fingers, but I still get scared every time. I'm not usually a superstitious person, but I started doing this thing when I was little where I had to closely study the safety card before take off and I've been doing it, without exception, ever since. This fear is a sort of an inconvenience because I love traveling.
7. I have a huge passion for fashion. My outfit has a big effect on my mood. Taking the time to style makes me feel more confident and motivated. I always look out for the latest fashion trends, but ultimately, I love making them my own. I'm all in for pieces that are bright, loud, and unique.
8. You could call me an antiquarian. I am fascinated by things from the past. I adore record players, drive-in movie theaters, polaroid cameras, etc. I could spend hours in an antique shop.
9. I'm an only child. I sometimes wish I had a sibling, but altogether I think I'm cool with flying solo.
10. I've kept a diary and a scrapbook for years now. My trademark in my writing is turning drama into comedy. I take the most difficult experiences and explain them using humor. I turn my whole life into a dramedy. It's my way of coping.
Tune in to a special sneak peek of Warped! THIS Sunday (January 16) at 7:30pm ET/PT on Nickelodeon!
Like Just Jared Jr. on FB