Sat, 15 January 2022 at 6:12 pm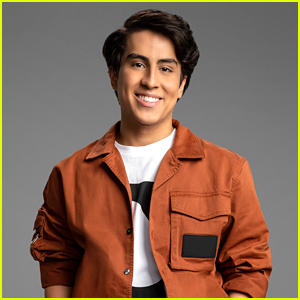 Christopher Martinez is one of the stars of Nickelodeon's upcoming new series Warped!
The teen actor will be playing Hurley in the comedy show, a neighboring pizza shop employee who spends his time coming up with brilliant culinary creations.
Warped! follows Milo (Anton Starkman), the beloved head geek at a popular strip-mall comic book shop, Warped!, who finds his world disrupted when his boss hires a new employee. With the quirky and excitable Ruby (Kate Godfrey) now on the payroll, the two form an unlikely alliance to create the world's greatest graphic novel.
Joining them in their adventures are Darby (Ariana Molkara), a smart and fashion-forward friend who is always there to lend a hand, and Hurley. Watch the trailer here!
Ahead of the series premiere, we got to know Christopher with 10 Fun Facts.
Click inside to learn more…
Christopher has recently been seen in the movies Timmy Failure: Mistakes Were Made and Good Friday.
Check out his 10 Fun Facts below…
1. Making pizza is one of my favorite things to do. My dad and I usually spend like 4 hours on a weekend, making dough and baking the pizza! Being Hurley is almost like being myself because I love to cook just as much as him!
2. I'm a big fan of vintage things. I love old film cameras, vinyl records, cassettes and basically any old form of media entertainment. I've been collecting vinyl records for about three years.
3. I played soccer for about 10 years. There was a time when I was much more of an athlete than I am now. I was a striker, who is basically the one who tries to score all the goals, and I had the time of my life.
4. One of my favorite hobbies is reading screenplays! It's just fun to get to see how some cinematic masterpieces look on paper. I'm currently reading Inception by Christopher Nolan, usually anything with his name on it is a must-see/must-read for me! He's definitely a dream director to work with!
5. I'm a senior in high school, where I major in Musical Theater! So yes, I sing! It's fun to get to perform live in front of audiences and especially getting to do it with my friends in school.
6. A lot of my family and close friends call me CJ as a nickname. The 'C' is for Christopher and the 'J' is for Jason, my middle name. CJ is something I'm very used to back home in NJ, so it's an odd experience to have two names that are very common in my life, CJ and Christopher!
7. I have a little doggo! His name is Chacho Martinez, he's a chihuahua/yorkie mix! The cutest little fellow and he's been in our family for almost 13 years (in February)!
8. I'm a huuuuge tech nerd. Usually anything having to do with computers, phones, tablets, etc. is so interesting to me. I love learning about the mechanics and the way a lot of these devices work! I never say no to a trip to the local electronics store, just so I can play with all the on-display devices.
9. This is a big secret. I usually keep this to myself. But collecting stickers is a guilty pleasure of mine. I usually sticker-bomb my computer, my water bottles, I think I even sticker-bombed a shelf in my house, which my mom wasn't happy about.
10. I'm currently catching up on movies that I've never seen. For example, for the first time ever I watched the entire Harry Potter film series and The Lord of The Rings. My brother has been telling me to watch these movies for years and I just recently accomplished it (recently as in literally last month). Now I really want a wand from Harry Potter……
Tune in to a sneak peek of Warped! THIS Sunday (January 16) at 7:30pm ET/PT on Nickelodeon, and catch the official premiere on Thursday (January 20) at 7:30pm ET/PT.
ICYMI: Get to know Christopher's Warped! co-star Ariana Molkara!
Like Just Jared Jr. on FB