Wed, 19 January 2022 at 7:23 pm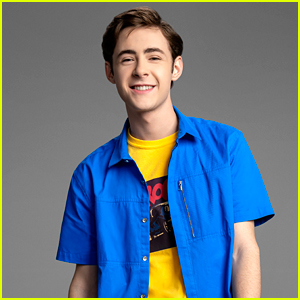 Anton Starkman is starring in the new Nickelodeon series Warped!
The young actor plays Milo, the intelligent and responsible leader of the comic book shop who is constantly having to get himself and Ruby out of trouble after she pushes him out of his comfort zone.
Warped! follows Milo, the beloved head geek at a popular strip-mall comic book shop, Warped!, who finds his world disrupted when his boss hires a new employee. With the quirky and excitable Ruby (Kate Godfrey) now on the payroll, the two form an unlikely alliance to create the world's greatest graphic novel.
Joining them in their adventures are Darby (Ariana Molkara), a smart and fashion-forward friend who is always there to lend a hand, and Hurley (Christopher Martinez), a neighboring pizza shop employee who spends his time coming up with brilliant culinary creations. Watch the trailer here!
Ahead of the show's official premiere on Thursday (January 20), we got to know more about Anton.
Keep reading for more…
Anton is no stranger to being in front of the camera. He's previously had roles on shows like 9-1-1: Lone Star, You, Once Upon a Time, Teen Wolf, and a recurring role on American Horror Story: Hotel.
With his new comedy series Warped! premiering TOMORROW (January 20) at 7:30pm ET/PT on Nickelodeon, we spoke to Anton Starkman and learned 10 Fun Facts about him!
1. I started acting when I was five years old.
2. I have two dogs (Tigger and Roo).
3. I have two older brothers (Wyatt and Landen).
4. I'm halfway through receiving my college degree in Psychology.
5. I'm a huge comic book fan and I love knowing different storylines.
6. I can juggle, walk on stilts, and I used to be able to ride a unicycle.
7. I love The Beatles and Frank Sinatra.
8. When I'm bored I play video games or watch TikTok videos.
9. My favorite food is pasta.
10. I love taking pictures of nature on my film camera.
If you missed them, check out the Fun Facts with his co-stars!
Like Just Jared Jr. on FB