Thu, 20 January 2022 at 6:30 pm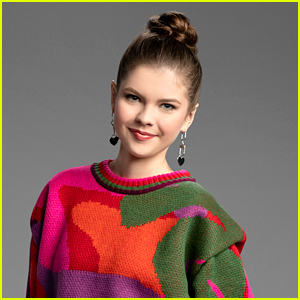 Kate Godfrey is sharing her excitement for her brand new show Warped!
The 18-year-old actress can be seen starring as Ruby in the Nickelodeon comedy.
Ruby is an outgoing and impulsive pop culture nerd whose encyclopedic knowledge of comic books makes her irreplaceable as the newest hire at Warped!
Kate was first announced as part of the cast back in March 2021.
Warped! follows Milo (Anton Starkman), the beloved head geek at a popular strip-mall comic book shop, Warped!, finds his world disrupted when his boss hires a new employee. With the quirky and excitable Ruby (Godfrey) now on the payroll, the two form an unlikely alliance to create the world's greatest graphic novel.
Joining them in their adventures are Darby (Ariana Molkara), a smart and fashion-forward friend who is always there to lend a hand, and Hurley (Christopher Martinez), a neighboring pizza shop employee who spends his time coming up with brilliant culinary creations.
Ahead of the series premiere TONIGHT (January 20), JJJ spoke with Kate to get the scoop on the new show.
Click inside to check out our interview with Kate Godfrey…
Just Jared Jr Exclusive Interview With Kate Godfrey
JJJ: Can you tell us about your character?
KG: Ruby is energetic and ready to take on any challenge head first. She is unapologetically Ruby, which is something I really admire about her.
JJJ: Are there many similarities between you and Ruby?
KG: Ruby and I are extremely similar. The only difference is that Ruby is a
lot more extroverted than I am. Ruby is not afraid to embarrass herself; she almost looks forward to it, I definitely cannot relate to that. She is also very physical; always moving, jumping, climbing, falling, you name it. The amount of bruises I get playing Ruby is crazy.
JJJ: What has your experience been like working on this new show?
AG: My experience working on Warped! has been wonderful. The
environment we have created on set is so positive and uplifting. I think the entire cast and crew genuinely enjoys working on the show. Everyone is excited to show up to work every day, which makes me so happy.
JJJ: What is your favorite part about Warped?
KG: My favorite part about Warped is working with Anton Starkman, Arianna Molkara, and Chris Martinez. We go to dinner every Friday night after filming all day. We all enjoy spending time together, which makes our jobs even more fun. We have a special bond that only really comes when you are on television together.
JJJ: What do you hope fans take away from watching the show?
KG: I hope they laugh!!! Almost every line of Warped is a punchline, thanks to our show creators Kevin, Kevin, and Heath. We have a great time making it, so I hope the viewers see that.
JJJ: Do you have a favorite BTS moment so far?
KG: My favorite BTS moment was probably working with live animals. Weirdly enough, we have tons of live animals on Warped, so I have encountered some crazy animals in the last few months. When there is a "wild" animal on set, everyone has to be really quiet so it doesn't get scared and run all around our set. When 150+ people are all being quiet and have their eyes on a zoo animal, it is pretty funny. You never know
what the animals are going to do. I also really love performing physical comedy, which is something I get to do a lot in this show.
JJJ: The show is centered in a comic book store. Are you a huge comic fan?
KG: I'm actually bad at knowing anything pop culture related ever, it is
actually pretty funny. Anton has tried to get me into comics and superheroes. I am starting by making my way through the Avengers series right now. That is the biggest difference between me and Ruby: I know nothing about pop culture.
JJJ: If so, what's your favorite comic?
KG: "Diary of a Wimpy Kid"
JJJ: Aside from the sketch part, what's the biggest difference between Warped! and your last Nickelodeon show All That?
KG: I think the biggest difference that I have noticed is that I am able to
develop and work on a single character rather than a ton of characters at one time. I absolutely adore sketch comedy and love learning the science of it, so it was a new idea to play and develop only one character. It is also a much smaller cast, so we are able to really get to know each other and spend time all together.
JJJ: What did you learn on All That that you were able to bring to Warped!?
KG: All That was the craziest experience of my life. Although I wasn't on set as much as I am for Ruby, it still was craziness. I had so much fun on that show; it was literally my playground. I could play any character I wanted and be whoever I wanted to be. All That is where I found my passion for comedy, which is something I will forever be grateful for. Most of my comedic training is from All That, which I think is really apparent in Warped. When Ruby was presented to me she was described as a mixture of all my All That characters, which I completely agree with.
Tune in TONIGHT (January 20) for the premiere of Warped! at 7:30pm ET/PT on Nickelodeon!
ICYMI: Check out 10 Fun Facts about Kate Godfrey.
Learn more about Kate's Warped! co-stars RIGHT HERE!
Like Just Jared Jr. on FB