Fri, 21 January 2022 at 12:30 pm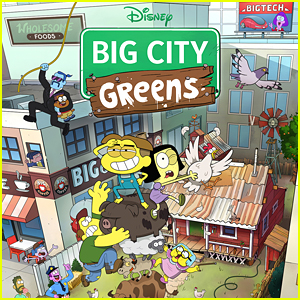 Big City Greens fans, get ready for A LOT more of your favorite characters!
It was just announced that the Disney Channel series has been renewed for a fourth season, weeks ahead of it's season three debut, Deadline reports.
In addition to the extra season, Big City Greens will also be getting a movie musical for Disney Channel and Disney+!
Find out more inside…
"Chris, Shane and their crew made this decision an easy one because they consistently turn their wellspring of bold ideas into entertainment that connects with kids and families, and appeals to fans of animation everywhere," Ayo Davis, President of Disney Branded Television, said in a statement.
"They're an important part of our TV animation studio which, guided by Meredith Roberts and her outstanding team, is key to our group's creative footprint and success," she continued. "Whether I'm at work or at home with my family, I join the millions of viewers around the world who are looking forward to all that Big City Greens has in store for us."
Big City Greens is an animated comedy-adventure series which follows the offbeat adventures of 10-year-old Cricket Green, a mischievous and optimistic country boy who moves to the big city with his wildly out of place family – older sister Tilly, father Bill and Gramma Alice. Cricket's natural curiosity and enthusiasm lead him and his family on epic journeys and into the hearts of his new neighbors.
Season three will premiere on Disney Channel on February 12th.
According to Deadline, "season 3 brings a big change for the optimistic mischief-maker Cricket Green who moved from the country to the big city with his wildly out of place family: hard-working father Bill, sweet-and-sour Gramma Alice and quirky older sister Tilly who later this coming season will participate in a rite of passage event, one that's uniquely Green style."
With the upcoming fourth season, Big City Greens will have more than 100 episodes. Find out what other Disney Channel shows have reached the 100 episodes mark!
Like Just Jared Jr. on FB