Fri, 21 January 2022 at 1:00 pm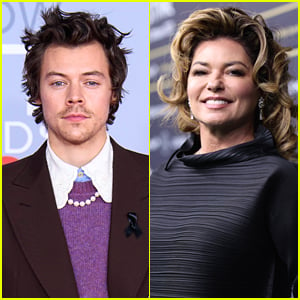 A country music superstar is wanting to work with Harry Styles!
In a recent interview, Shania Twain opened up about being texting buddies with the 27-year-old musician and her desire to do a duet with him.
See what she said inside…
"I love to sing-along with Harry Styles. (Singing). That is such a cool lyric. I Adore You. Harry and I are texting friends. Yes, I'm bragging," Shania told Apple Music. "No, I'm really a big fan of Harry Styles, and he's apparently a fan of mine as well. He likes to sing 'You're Still The One,' and he performs it sometimes in his show, his live show, which is really cool and a huge compliment. So, thank you Harry."
"You and I should definitely do a duet together. We could do a version of one of your songs. I love your music. We could do a version of one of my songs, or we could just write a song from scratch and go from there," she said directly to Harry.
"One thing that I think is really cool that we share is we like to wear leopard print. You look good in it. Leopard print is a Shania Twain signature print, but Harry Styles can borrow it, of course, because he's so cute and talented. So yeah, you've got my permission. Go ahead. Wear it. Just don't wear it out."
If you missed it, earlier this week Harry shared some exciting tour news!
It was recently announced that Harry will be performing at this upcoming music festival.
Like Just Jared Jr. on FB