Fri, 28 January 2022 at 5:00 pm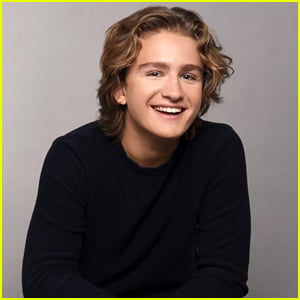 Tait Blum is starring in the new Netflix movie Home Team!
The young actor plays Connor Payton, the son of former NFL player and coach Sean Payton, played by Kevin James.
Here's a synopsis: Two years after a Super Bowl win when NFL head coach Sean Payton is suspended, he goes back to his hometown and finds himself reconnecting with his 12 year old son by coaching his Pop Warner football team. Watch the trailer here!
You may recognize Tait from some of his past roles, which include Cousins For Life and Team Kaylie.
With his big new movie Home Team, out NOW on Netflix, we spoke to Tait Blum and learned 10 Fun Facts about him!
Get to know Tait inside…
1. My brother, (Teddy Blum) and I play the same character Shane Baldwin in For All Mankind, the first original series released by Apple TV+. I played an older version of the character. My mother on the show, Karen Baldwin, is played by the immensely talented Shantel VanSanten, who starred in the show Shooter, playing the wife of Bob Lee Swagger (Ryan Phillippe). I played a younger Bob Lee Swagger, making Shantel my future wife….hahaha small world!
2. Up until a few years ago, I competed as a Brazilian jiu-jitsu fighter and won several tournaments, including the SJJIF No-Gi world championship in my division. I stopped jiu-jitsu after breaking my arm and dislocating my shoulder during training. After a few auditions, I realized that it was probably not the best idea to show up to auditions with black eyes or broken bones…haha.
3. I love all things racing and developed my love for driving as an outdoor go-kart racer. I have been nationally ranked and competed in national and international events such as: ROTAX: Challenge of the Americas, ROTAX: Grand National's.
4. My first time driving a car was at 13 years old with a close family friend who is a stock-car racing coach! I left the clip up on my Instagram if you want to check it out, what a blast!
5. My grandfather, Roger Blum, is a fine artist and was one of "six" combat artists in Vietnam, some of his paintings from Vietnam hang in the Pentagon today.
6. My great-grandfather was a decorated B-17 pilot in WWII. He flew 53 missions in the European theater between 1944-1945 and was awarded a Distinguished Flying-Cross! We have his WWII flight maps logging his missions that contain fascinating history considering how instrumental those missions were to turning the tide of the war.
7. I've tried to use the down-time during the pandemic as up-time to try new things. In addition to developing a love for writing scripts, I've also started some guitar.
8. I've become an avid football card collector and hope to amass a huge collection in the coming years.
9. My biggest dream is to write, direct, and act in my own film, which is something I'm working towards and can hopefully accomplish in the future!
10. My first two (and ONLY) acting gigs prior to the big leagues, was playing a (mortified) shaggy brown donkey in preschool, and playing "Pa Bailey" in my second grade open house.
Like Just Jared Jr. on FB