Mon, 31 January 2022 at 12:54 pm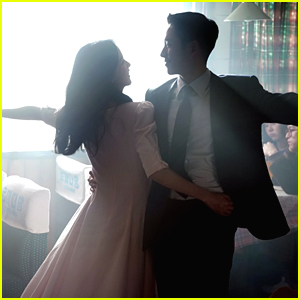 Disney+ is getting into the Korean drama series business!
The streaming service announced on Monday (January 31) that the original series Snowdrop will be debuting in the U.S. and other Disney+ markets very soon.
BLACKPINK singer and actress Jisoo will star in the 16-part drama alongside Jung Hae-In.
Learn more inside…
Here's a synopsis: When a blood-soaked man (Jung Hae-In) bursts into the dormitory of a women's university in Seoul, Korea, Eun Yeong-ro (Jisoo) will go against her better judgement and risk being expelled to hide the man from his attackers and tend to his wounds. Unbeknownst to Yeong-ro, the man has a harrowing secret that threatens to put her friends' and family's safety at risk, and the two young lovers will have to work together to overcome the obstacles.
This marks Jisoo's debut starring performance in a Korean series, which is described as a period drama that explores the forbidden love between a young couple trapped in a time of political turmoil.
"Snowdrop is a heart-warming fictional melodrama about a young couple in love, and as the story unfolds, find themselves enduring an unbearable pain that one rarely encounters in a lifetime. I hope global audiences find this heartfelt series also gripping and suspenseful as the two come to face their fate," director Jo Hyun-tak shared in a statement.
The series was among the top five most watched titles in the majority of APAC markets on Disney+ in its first five weeks on the service. It originally debuted on Disney+ in Korea, Australia and New Zealand, among others, as a Star Original series.
Snowdrop debuts on Disney+ on February 9th.
Like Just Jared Jr. on FB