Tue, 01 February 2022 at 2:06 pm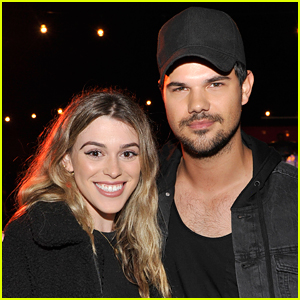 Taylor Lautner is dishing on his fiancée Tay's choice of Team Edward or Team Jacob!
The 29-year-old Home Team actor opened up her love of Twilight during an appearance on The Kelly Clarkson Show, airing Tuesday (February 1).
See what team she was on inside…
"Um… she was, she was Team Edward. Yes, she was," Taylor told Kelly. "But she's made up for it. I'm allowing her to make that mistake. It's in her past."
"She's good now, but she was not Team Jacob unfortunately," he added.
During his appearance, Taylor also opened up about how people refer to him and his fiancée, since they are both named Taylor, and how his sister introduced them.
"We either keep it super simple or super complicated," he said, then confirming he usually goes by Taylor and her Tay. "Or a lot of people just do Boy Tay and Girl Tay."
As for the introduction, this is how it went down…
"Funny story. My sister actually introduced us," he said. "It's just me and my sister so we're super close, and she always said that she was gonna introduce me to my future wife, and I was like oh my gosh."
"But she actually did. She was like, 'I have an idea, throw,' because I love game nights, she's like, 'throw a game night, invite me and some of my friends over, and I'll bring Tay. She'll just be one of them, and you guys can just meet.' We hit it off and the rest is history."
Taylor and Tay have been dating for a few years and got engaged in November 2021.
Like Just Jared Jr. on FB