Wed, 02 February 2022 at 1:01 pm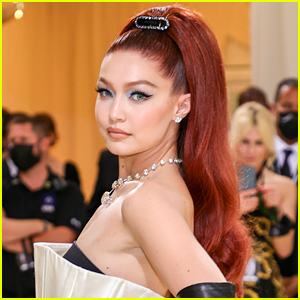 Gigi Hadid is dishing on her desire to not be on camera ten years ago!
The 26-year-old model's mother Yolanda was previously a regular cast member on Bravo's hit reality show The Real Housewives of Beverly Hills from 2012-2016.
In that time, Gigi and her siblings, Bella and Anwar, made a few appearances on the show, but she just opened up about how she would avoid camera time.
See what she said inside…
In a new interview for her March cover of InStyle magazine, Gigi shared how it was being in high school and having her mom on the show.
"When I think of my childhood, I think of the crazy, ecstatic volleyball player. I was that loud voice. I loved sports, I loved being on a team, I loved school and my friends. That's what comes naturally to me," Gigi told the mag.
"But when people first started to get to know me, it was like, 'Oh, her mom was [Yolanda Hadid] on [The Real Housewives of Beverly Hills]. That is her life,'" she continued. "But that wasn't my life or a part of my growing up. My mom wasn't on TV until I was a senior in high school, so I was just on my way out of the house."
"It was weird for me. I would come home from school and there would be production trucks outside. I would scale the staircase to my room so I wouldn't have to go say hi to my mom in the kitchen," Gigi said.
The model also opened up about her daughter Khai.
"She's just so smart, and she's so aware. She watches everything, she's always learning, she's always looking. She's just awesome," Gigi gushed. "I still can't believe it. It's wild. A lot of my mom friends feel like that, and we're nearing the first couple years [with our kids]. You're obsessed with them, but sometimes you turn and you're like, 'Oh my god. Where did you come from?'"
For more from Gigi, check out her profile on InStyle.com!
In case you missed the news, Gigi will be heading to Netflix for a new job.
Like Just Jared Jr. on FB