Wed, 02 February 2022 at 6:15 pm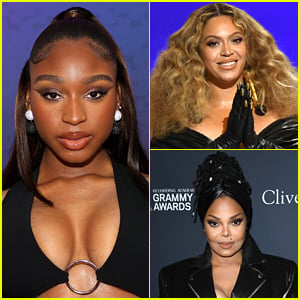 Normani is dishing on being a Black woman in the entertainment industry.
The 25-year-old "Wild Side" singer makes an appearance on Hailey Bieber's YouTube series "Who's In My Bathroom?" and opens up about how artists like Beyoncé and Janet Jackson have not only helped her see the possibilities of who she could be, but also how they have influenced her.
Click inside to read more…
When asked who her biggest musical influences were, Normani shared, "I love entertainers, so like Britney Spears, Janet Jackson, Beyoncé. I've always really appreciated the art of being able to pair dancing with a vocal and putting together a live performance."
"I feel so alive any time I'm on stage. I'm able to really tap into, because I'm naturally really, really shy, so it kind of allows me the opportunity to be whoever I choose to be, and nobody can touch me in that moment when I'm in my element," she continued.
The ladies then transitioned about being women in the industry, and Normani added that being a Black female has been "very unique to me being a black woman in the music industry."
"Being little and watching the Janets of the world, and watching the Beyoncés of the world, and like seeing that glimpse of what they were able to do, allowed me to open my mind to the possibilities of who I could potentially be," Normani shared.
As for the challenges that she's faced in the industry as a Black Woman?
"I think people thinking that they have me figured out when there's much more to me than the stereotypes, which is why for me, being a competitive dancer, a lot of people wouldn't have known that, you know?" she says. "I can go on stage and I can also give you technique. I can do ballet, I can do contemporary, like I don't have to just go on stage and dance the way that you assume is all I'm capable of doing."
"That's why it's so so important for me to show that Black girls can be elegant and well spoken, and articulate, and it's not a white thing to be able to have a conversation and be able to articulate," Normani continued. "I just like to prove people wrong."
Check out their whole conversation in the video, right here!
Like Just Jared Jr. on FB