Mon, 07 February 2022 at 2:06 pm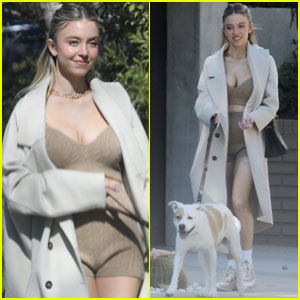 Sydney Sweeney takes over the streets of Los Angeles for a photoshoot on Sunday (February 6).
The 24-year-old Euphoria actress kept it low key for the shoot in a matching tan set with a white coat and brought along a super cute pup to take photos with her.
In a new interview with Cosmopolitan for their Love Issue, Sydney opened up about her career and love life.
Click inside to find out what she said…
On industry pressure: "It's terrifying because this is the kind of industry where everyone gets to watch you fail. It's a lot of pressure. But everyone is going to have good and bad; no one has a perfect slate of box-office hits.
On straddling a double life as she was trying to get her acting career off the ground: "At that time, I wasn't the most confident person. I knew I was a good actor, but no one believed in me. I was told to lose weight or that my hair was the wrong color. Random things that make you start to question, Am I not going to ever become my dream?"
On how she relates to her Euphoria character Cassie: "I don't agree with all of Cassie's decisions, but I remember being a teenage girl and letting my heart speak louder than my mind, so I would probably make some of the same decisions that she did."
On how she feels about doing nude scenes: "When I saw The Voyeurs for the first time, I wondered if I'd done too much. I researched celebrities who have done nude scenes, trying to make myself feel better. There are hour-long compilations of world-famous male actors with nude scenes who win Oscars and get praised for that work. But the moment a woman does it, it degrades them. They're not actresses. They just take off their tops so they can get a role. There's such a double standard and I really hope I can have a little part in changing that."
On being thoughtful about what she shares on social media: "I would love to share my normal life so that people can see that it's not all glamour. But I can't because one, I like my privacy, and two, social media is another platform for business."
On keeping her romantic relationships private: "I don't date people in the spotlight. I don't date actors or musicians or anyone in entertainment because I can just be normal Syd that way and it's easiest."
On what she looks for in a partner: "I look for a best friend. I need to be able to be with someone who I can literally hang out with 24/7 and never get sick of and we laugh every single day."
On her TikToks sharing the restoration of a vintage Ford Bronco: "In quarantine, my creative juices were overflowing. I was very bored and I got addicted to going to auction sites for cars. I wanted a Bronco so badly. But I wanted to build one so that when I drove it and people said 'cool car,' I could be like 'yeah, thanks' and know I made it."
On being able to indulge in things that used to feel out of reach: "It really feels like I'm now able to start the life that I wanted to give to my family…. I'm beyond proud of myself. I get teary thinking that I'm actually working and achieving my dreams."
For more from Sydney, check out Cosmopolitan.com.
In case you missed it, we have all the pics of the Euphoria cast at the season 2 premiere!
Like Just Jared Jr. on FB