Tue, 08 February 2022 at 2:43 pm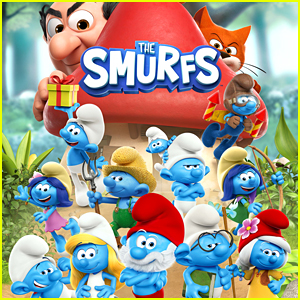 Get ready for a lot more Smurfs!!!
The CG-animated Nickelodeon series The Smurfs has been renewed for a second season on the network, AND they are starting production this year on a movie musical.
Keep reading to find out more…
The second season of the show will continue to follow the Smurfs on a variety of adventures, including time traveling, inventing a magic camera, accidental body swapping, and more.
Nickelodeon and Paramount Pictures have formed a creative partnership with LAFIG Belgium and IMPS to create multiple feature films based on the characters and stories created by Belgian artist Pierre Culliford.
The animated movie musical will be the first project, going into production this year, and set for a December 2024 release.
"Nickelodeon is the home to some of the world's most popular family franchises, and we're honored to add The Smurfs to that roster," Nickelodeon Animation and Paramount Animation President Ramsey Naito said in statement. "We're excited to tell a story that stays true to its origins, but with a Smurf-tastic musical twist that excites new audiences and builds on the Smurfs franchise and universe of wonderful characters and stories."
"It is with great joy and pride that I welcome this new Smurfs film! I am truly excited with this wonderful partnership with the talented, creative and dynamic teams at Paramount Pictures, Nickelodeon Animation, and IMPS," Véronique Culliford, Founder & President of LAFIG and IMPS, and daughter of the Smurfs creator, shared.
"I am convinced that this great collaboration will allow families around the world to immerse themselves in this unique universe of humor and extraordinary adventures," she continued. "I have no doubt that my father, creator of these marvelous world-famous characters, would also be delighted with this continuation of his work. I look so forward to seeing audiences gather together in the near future to enjoy this new adventure of our beloved Smurfs!"
In case you missed it, another Nickelodeon series was recently renewed for a second season!
Like Just Jared Jr. on FB