Tue, 08 February 2022 at 3:46 pm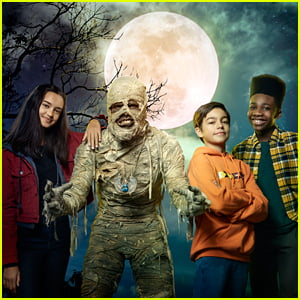 The Disney Channel movie Under Wraps is getting a part two!
The exciting news was unveiled on Monday (February 7) as part of Disney Branded Television's TCA announcements.
Malachi Barton, Christian J Simon, Sophia Hammons, Phil Wright and Melanie Brook will all return for Under Wraps 2!
This sequel announcement is less uncommon for Disney Channel as most DCOM sequels are for their musical films. The last non-musical DCOM that had a sequel was Twitches. Twitches Too was released in 2007.
Find out more about Under Wraps 2 inside…
In Under Wraps 2, it picks up as Amy (Hammons) is preparing for her father's Spooktacular Halloween-themed wedding to his fiancé Carl. However, plans soon go awry when Amy, Gilbert (Simon) and Marshall (Barton) discover that their mummy friend Harold (Wright) and his beloved Rose may be in danger.
Sobek, an evil mummy with a thousand-year old grudge against his best friend-turned-bitter rival Harold, is unexpectedly awakened and our for revenge. With help from his hypnotized lackey Larry, Sobek kidnaps Rose, and Amy, Gilbert, Marshall, Buzzy (Brook) and Harold must use their skills once again to save her and get back in time to attend the wedding.
Also starring in the movie are TJ Storm, Rryla McIntosh, Jordan Conley and Adam Wylie.
If you didn't know, Malachi will also be starring in a new Disney Channel series!
In case you missed it, get to know more about Melanie Brook, who plays Buzzy in Under Wraps.
Like Just Jared Jr. on FB