Wed, 09 February 2022 at 4:35 pm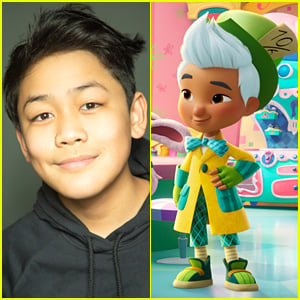 CJ Uy is making his television debut with Disney Junior's new series Alice's Wonderland Bakery!
The young actor lends his voice to the role of Hattie, who is a "mad-hatter" boy and Alice's silliest friend.
He co-stars alongside Libby Rue as Alice, Abigail Estrella as Princess Rosa and Jack Stanton as Fergie the White Rabbit.
In the new series, which premiered TODAY (February 9) on Disney Junior, we meet Alice, the great-granddaughter of the original heroine and a budding young baker at the enchanted Wonderland Bakery. Each episode features two 11-minute stories about Alice's recipe adventures with her best pals—Fergie, a white rabbit; Hattie, her madcap friend; and Rosa, the Princess of Hearts.
The series celebrates the culture and creativity of food, highlights self-expression and imparts age-appropriate social and emotional lessons about friendship, collaboration, and community.
In celebration of the brand new animated series, we spoke to CJ and got to know more about him with 10 Fun Facts.
Click inside to see what he shared with us…
1. I am an American Filipino Chinese.
2. I was born in Long Island, New York, but raised in Los Angeles.
3. I've been homeschooled since I was 4 years old.
4. I have 5 guinea pigs, a bearded dragon, and sometimes up to 1000 crickets. Our neighbor was a bug wrangler, so I was exposed to different types of bugs and critters at an early age.
5. I'm a junior black sash in Wing Chun Kung Fu. I love parkour, tumbling and cinematic martial arts.
6. I toured with my mom, Joan Almedilla, who is a Broadway Musical Performer, on the Lincoln Center Theatre's National Tour of The King and I, where I got to play as one of the royal twins directed by Bartlett Sher. For over two years, we performed all over the US and Canada, never missing a single show.
7. When I told my golf instructor I was going "on tour," he thought I was going "on tour" to play golf. Told him it was for a Broadway Musical and we both laughed and he congratulated me. I did get to play golf at some of our stops.
8. I like to play video games, VR, record, stream videos, and edit. (Adobe Premiere Pro gang!)
9. I'm a big Marvel fan, Spider-Man is my favorite character and superhero. I also enjoy Star Wars and I binged watched ALL of The Simpsons episodes.
10. I am a fan of the Dodgers and Rams!
Catch new episodes of Alice's Wonderland Bakery on Thursday (February 10) and Friday (February 11) at 10:30am ET/PT on Disney Channel and 4pm ET/PT on Disney Junior.
New episodes will then air weekly on Fridays at the above times.
Like Just Jared Jr. on FB