Mon, 14 February 2022 at 4:23 pm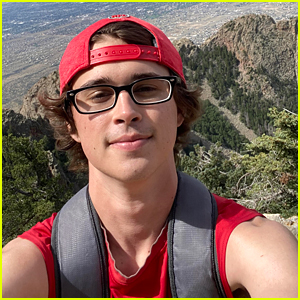 We are getting to know a bit more about Sweet Magnolias actor Logan Allen!
The 17-year-old actor plays Kyle Townsend on the drama series, the middle child of Maddie (JoAnna Garcia Swisher) and Bill (Chris Klein).
Season two of Sweet Magnolias picks up where season one left off, with the aftermath of Logan's character Kyle getting in a car accident. Watch the trailer here!
The second season launched just over a week ago, and has remained in the Top 10 on Netflix since!
Logan has also appeared in Stranger Things and AMC's Creepshow, as well as Bernie The Dolphin and Bernie The Dolphin 2.
We caught up with Logan and found out 10 Fun Facts about him.
See what he shared inside…
1. My first job was a photoshoot with Bealls Outlet. I was 8 years old and super excited, but also really nervous XD.
2. I have a patch of hair on the side of my head that is silver. I guess it's genetic.
3. I love to ride horses.
4. I played soccer, football, and baseball before I went to acting full time.
5. My first TV audition was a Nickelodeon show called Talia in the Kitchen, and I got the role.
6. I am TERRIFIED of heights, yet I've been on some of the tallest buildings in the U.S. The Stratosphere in Las Vegas and the One World Trade Center in New York are just a few.
7. When I'm bored, I hop on my pc and play some video games.
8. I love winter clothes; I have so many hoodies and jeans even though I live in Florida. But I hate cold weather. Yeah, it doesn't make sense.
9. I don't drink a lot of soda, but when I do, I drink Dr. Pepper. It's weird because I think Dr. Pepper is a cherry-flavored drink, yet I'm not a fan of cherries lol.
10. My favorite movie is Grown-Ups. I'm a huge Adam Sandler fan so, you can put on any movie of his, and I'll watch it.
Catch season two of Sweet Magnolias, now streaming on Netflix!
Like Just Jared Jr. on FB