Thu, 17 February 2022 at 4:37 pm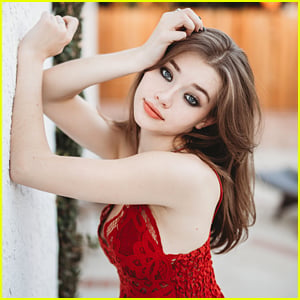 Sydney Taylor is heading to Disney+ with a role in the upcoming series American Born Chinese!
The young actress will star as Amelia, a friendly "All-American" girl who is Jin's classmate and crush.
American Born Chinese is based off of the graphic novel of the same name by Gene Luen Yang.
It "tells the story of Jin Wang, an average teenager juggling his high school social life with his home life. When he meets a new foreign student on the first day of the school year, even more worlds collide as Jin is unwittingly entangled in a battle of Chinese mythological gods. The action-packed coming-of-age adventure explores identity, culture, and family."
Filming begins this month in Los Angeles.
JJJ caught up with Sydney, who you may also know from Just Add Magic: Mystery City, recently and learned 10 Fun Facts about her.
Find out what she shared inside…
Check out what she shared with us…
1. I consider myself a cat person regardless of the fact that I have never owned a cat.
2. I was a HUGE Hunger Games fan. It was even the theme of my Birthday party. I was convinced that archery was a talent of mine—it was not.
3. I tried out for "Tom Sawyer" in the third grade. I did not get a part. My teacher felt so bad, she told me I could be the stage manager.
4. I have only had stitches once. It was from a mop. I know, that takes talent. I also may have passed out.
5. Guilty pleasure: once I find a show or movie I like, I watch it on repeat for months at a time.
6. The first time I filmed something it was an independent film, in a freezing cave, on top of a mountain. I could not have been happier.
7. I am very introverted. In elementary school, I would stay inside with my teachers during recess.
8. I was a ballet dancer for a while, pointe shoes and all.
9. I have a dog named Ally. When I was little she would let me dress her up in my clothes. She spent quite a bit of time in little girls skirts. She is the sweetest dog and never seemed to mind.
10. Halloween time is my absolute favorite! I love all of it; the scary movies, the decorations, the costumes, all of it!! I start watching spooky movies at the beginning of September. I have even had a costume picked out as early as January.
If you missed it, find out who else will be starring in American Born Chinese!
Like Just Jared Jr. on FB