Fri, 18 February 2022 at 2:31 pm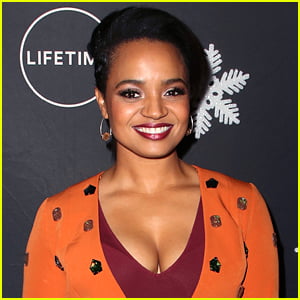 Kyla Pratt is opening up about the reboot of The Proud Family!
The 35-year-old Call Me Kat star is reprising her role as Penny Proud in the upcoming The Proud Family: Louder and Prouder on Disney+.
The new series continues to tell new stories of Penny Proud, her family and friends, and even some new characters. In addition to Kyla, the reboot features all the original voice actors back in their roles!
In a new interview, Kyla dished on what it was like coming back to Penny all these years later – she first started voicing her when she was just a teenager.
See what she said inside…
"It is an absolutely amazing feeling. I never thought it was going to happen. It was something that I filmed when I was 14 and 15 years old," she told Screen Rant. "I've always loved it, but I just looked at it like, 'Hey, it's over, I guess. I love these people, but I'll see them in passing.'"
She continues, "And, literally, fans of the show have been wanting it for years. I always joke that everywhere I go, somebody is threatening me or twittering me or DMing me like, 'Why are you not bringing it back?' I'm like, 'Guys, stop yelling at me. Okay, I'm gonna call the people, but it's not [my call], okay?'"
"And then when we announced that it was coming, it was like, 'Okay, when?!' I'm like, 'Dang, can we put it together first?' So, when we finally got a date, I was like, 'Ooh, we got a date!'" Kyla said.
The actress, who also currently stars on FOX's hit comedy Call Me Kat, shared what it's like for her kids to be able to watch it, and still tackling things others are afraid to talk about.
"It's been an amazing experience to bring something from when I was 14 years old to now, and be a part of this family still. To be a mother and have my kids have something that they can watch and enjoy, and that can help guide them like it guided me and so many others. I'm just so excited to be here," she shared.
"We've always been unapologetic and always talked about things that not everyone wanted to talk about; things that they shied away from. And we're doing the same thing now, with 2022 style."
The Proud Family: Louder and Prouder debuts the first two episodes NEXT Wednesday (February 23), followed by new episodes weekly.
ICYMI: Check out a first look at some of the new characters.
Like Just Jared Jr. on FB