Sun, 20 February 2022 at 7:54 pm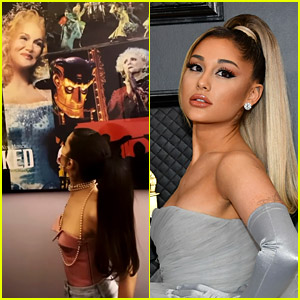 Ariana Grande has been a fan of Wicked since the musical first premiered on Broadway in 2003 and she is going to be playing the role of Glinda in the upcoming movie version.
On Saturday night (February 19), Ariana, 28, went to see the show on Broadway again!
Ariana got to see history-making actress Brittney Johnson, who just became Broadway's first-ever Black actress to play the role of Glinda full time. She took over the role on February 14 after being the standby Glinda since 2019.
This is not Ariana's first time seeing the show on Broadway. She's been a fan since the musical first debuted almost 20 years ago and she got to see the original cast, including Kristin Chenoweth.
On her Instagram Stories, Ariana shared a photo of the show's curtain and raved about the performances of Brittney and current Elphaba actress Lindsay Pearce.
"you were so very, very brilliant," Ariana wrote to the actresses. "Truly an honor to see and hug and hear and witness you both. I am weeping! Still! Words simply do not suffice. Everyone was so remarkable. I feel so deeply thankful to have experienced this tonight. Floating!"
Brittney took to Instagram to share photos she snapped with Ariana while backstage.
"What a treat having the future Miss Bubble Queen in the audience last night! @arianagrande you have such a kind and beautiful spirit. It was so lovely meeting you, and I can't WAIT to see your take on this character whom we both love so much! I am so very proud of you 💕," she said.
Lindsay wrote on Instagram, "A magical week so far 💗🥰💚 What an honor to spend a moment with our beautiful Wicked movie Glinda girl @arianagrande, what an honor to welcome in @sunnybrittney to her rightful place in the bubble."
The director of the Wicked movie recently opened up about Ariana's audition process.
Like Just Jared Jr. on FB