Mon, 21 February 2022 at 8:00 pm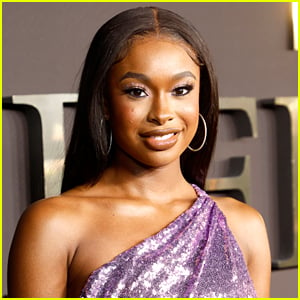 Coco Jones is dishing on her character in the new Peacock series Bel-Air.
The 24-year-old singer and actress plays Hilary Banks on the dramatic reimagined show.
On the original The Fresh Prince of Bel-Air, Karyn Parsons brought Hilary to life.
In a recent interview with Teen Vogue, Coco opened up about making the role her own.
Click inside to read more…
"I was surprised and grateful," Coco said of her character's confidence. "I was surprised because I had all these preconceived notions of what I thought Hilary was supposed to be based on how she was portrayed in the [original] show and how she looked… in the back of my head, I was like, I don't know if it's me."
"She reminded me more of myself and what I bring to the table, my headstrong, self-assured, confident personality," she continued.
"We had several conversations about the goal of Hilary being relatability. The last thing that we [wanted] was for people, or especially women and women of color, to not see themselves in her, in her struggles and in her journeys. I would describe her as the boss babe… She's the girl that's like… 'I don't need to do whatever I'm told I need to do. I'm going to get it my way.' I love that about her," Coco said. "It reminds me of me, and my own journey being in this industry, being tenacious and getting to my goals regardless of the opposition."
The first four episodes of Bel-Air are currently streaming on Peacock, with new episodes debuting weekly on Thursdays.
Like Just Jared Jr. on FB