Mon, 21 February 2022 at 2:00 pm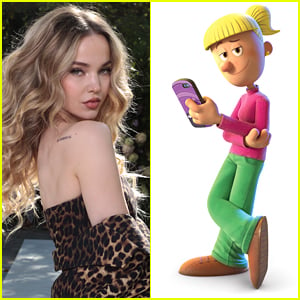 Dove Cameron is co-starring in the new animated series Big Nate!
The 26-year-old actress and singer lends her voice to the character Ellen Wright on the show, which is now streaming on Paramount+.
If you didn't know, Big Nate is based off of the best-selling books and comic strip by Lincoln Peirce, and follows a precocious 11-year-old boy named Nate and his best friends as they navigate sixth grade with humor and style.
In a recent interview, Dove revealed that she had never heard of it before being approached to join the cast.
Check out what she said inside…
"Our wonderful creators came to me at the top of 2020, and they said, 'Do you know about this property? Do you know how beloved it is? Would you look into it? And if you respond to it, would you be interested in playing Ellen?'" Dove told PopCulture. "And I hadn't heard of it. Until suddenly, it was like under my bed. And it was like on the top of my ceiling, I was like, 'Oh, has this always been here?'
"Big Nate is everywhere and people love it. And it's got such a following and such a devotion that I was kind of shocked that I hadn't heard of it, but also not really because I'm very, very off the grid and unplugged in a bad way," she continued.
"But I was so excited because in my opinion, these days there's so much being created that the best stuff is only ever the fan chosen things. It's never what you are constantly hearing about being publicized. It's always grassroots. It's like it Springs out of nowhere to you. And like suddenly it's been around for forever. So I was really, really excited to be a part of something that has such a passionate fan base."
Check out the trailer right here and catch the show on Paramount+ now!
Dove is also attached to star in a live action version of this fan-favorite property.
Like Just Jared Jr. on FB