Fri, 25 February 2022 at 1:07 pm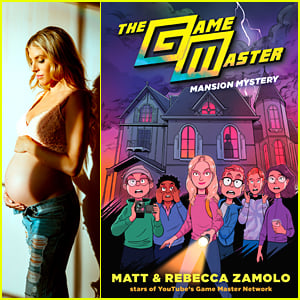 Rebecca Zamolo has two big things coming soon – her second "The Game Master" book and her baby!
The YouTube star and expecting mom opened up about both in a new, exclusive interview with JJJ.
Click inside to read more…
Rebecca and her husband Matt (aka Matt Slays) released their first book, "The Game Master: Summer School," in June 2021, and now the second book, "The Game Master: Mansion Mystery" is set to be released NEXT Tuesday (March 1).
In "Mansion Mystery," Rebecca Zamolo has managed to foil the Game Master's plans before, but this time the Game Master has snake-napped Nacho, her good friend Miguel's pet. No way is Becca going to let the Game Master get away with this dastardly plan. But when the clues lead Becca and her new friends in the direction of the one house in their
entire neighborhood that none of them ever want to go near, they know they have no choice but to screw up their courage and dare to investigate, if they want to rescue Nacho.
But the problem is that getting into the superspooky house is way easier than getting out. The Game Master is up to their old tricks, and Becca, Matt, Kylie, Frankie, and Miguel are going to have to face their fears and use all their smarts and strengths to solve the puzzles and games and save the day.
You can pre-order "The Game Master: Mansion Mystery" at HarperCollins.com (It's on sale right now!), and/or pick up your copy in stores next week!
In addition, Rebecca and Matt are also expecting the arrival of their baby girl around the same time. So exciting!!
Ahead of the book release and the baby, we spoke with Rebecca and got the scoop on writing the book, what's different about it from the first book, and even what her pregnancy cravings have been!
Check out our exclusive interview with Rebecca Zamolo below…
Just Jared Jr: What inspired the story in the second book?
Rebecca Zamolo: I've always loved haunted houses, and in this book, we must deal with our biggest fears.
JJJ: Without using mystery or adventure, can you describe the book in three words?
RZ: Exciting, suspenseful, fun
JJJ: Aside from the location, what would be the biggest difference between the two books?
RZ: In the first book, they learned to work together as a team. In book two, we see each of the characters take on their biggest fears alone and in turn, how they grow independently to help the group.
JJJ: Was the process for book 2 any harder than the first, or was it easier because you already have one under your belt?
RZ: This book was a lot of fun because we really understood the characters from the start and got to just play with putting them in situations that would challenge them.
JJJ: What part of the book was the hardest to write?
RZ: Making sure the characters in the book stay true to who we are in real life is very important to us. There are always a lot of great ideas, but if it doesn't match who we are, we don't use the idea.
JJJ: Did you run into any/many obstacles while conceptualizing and writing this next story?
RZ: Making sure each character had their own journey while making sure they all were working together at the same time was important.
JJJ: What is your favorite part about writing the "Game Master" books?
RZ: I love books where the readers get to solve clues along with the characters they are reading about.
JJJ: Do you have a favorite character?
RZ: Obviously it's Becca, but I guess I have a bias lol.
JJJ: On a more personal note, you are expecting a baby, how exciting! Congratulations!
RZ: Thank you! I'm hoping my future daughter will one day get to read these books and love them.
JJJ: What do you look forward to the most about being a mom?
RZ: I'm excited to get to raise a girl who is strong and confident.
JJJ: Is there anything you are nervous or scared about being a parent?
RZ: I'm scared about everything, but so excited.
JJJ: Have you had any crazy pregnancy cravings?
RZ: I've never drank more hot chocolate in my life.
JJJ: Are there things that you have been eating that you didn't like before you were pregnant?
RZ: I haven't really had any weird pregnancy food cravings, just hot chocolate.
JJJ: Your videos and the content you create are already family friendly, but has becoming a mom changed how you look at the content you make?
RZ: We'll continue making content, but it will be fun to see how we can make fun cameos with her in it.
Like Just Jared Jr. on FB