Fri, 04 March 2022 at 1:52 pm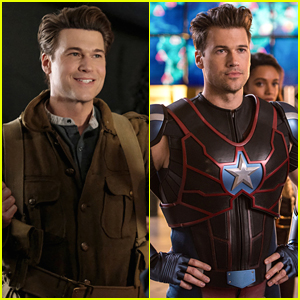 Nick Zano has announced that he is leaving The CW's DC's Legends of Tomorrow.
The 43-year-old actor has starred on the series as Dr. Nate Heywood/Steel for the past five seasons, after joining in season two.
Nate is a professor of "deductive historical reconstruction," a superhero who can turn into steel, a theme park impresario, and an unlucky-in-love Legend. Nate knows he loves Zari 1.0 (Tala Ashe) she's his forever girl, and it's time to take the next step in their relationship. All Nate needs to figure out is what exactly the next step is, which is complicated when your girlfriend lives in an air totem.
The season seven finale aired earlier this week, and Nick has taken to social media to confirm he is leaving the show.
See what he wrote inside…
"It's with a grateful, appreciative , full heart I say goodbye to my Legends family… It's been the absolute most insane, fulfilling experiences I've ever had BUT the time has come for Nate/Steel to say goodbye to the greatest, most loyal, most ride or die, fan base…" Nick captioned his post.
"I want to thank the great @gregberlanti for presenting me w this extraordinary opportunity 6 seasons ago. @marcguggenheim for early support, everyone @dccomics , #MarkPedowitz and my main man and in Burbank #PhilKlemmer for being my daily partner in all this (thank you for the Cena arms)…" he continued.
"To all my show siblings… the ever evolving list of talented people, I have our bonds locked in forever, thank you, love you. Lastly… to my main source of life, my crew… I love you, I love you, I love you. Our village is strong, my admiration and respect for all of your work ethics above & below are high. I'm going to miss us… ❤️ Nick"
At the time of this post, DC's Legends of Tomorrow has not yet been officially renewed for an eighth season on The CW.
Like Just Jared Jr. on FB