Wed, 09 March 2022 at 2:40 pm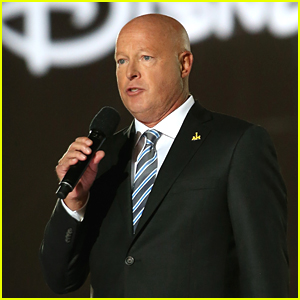 Bob Chapek is finally speaking out opposing the controversial "Don't Say Gay" bill in Florida.
The Disney CEO addressed the bill in the company's shareholder meeting on Wednesday (March 9), one day after the bill passed the Florida Senate.
Click inside to read more…
"I understand our political approach, no matter how well intentioned, didn't quite get the job done," Bob said in the meeting, via Deadline, referencing their behind-the-scenes approach.
"While we have been strong supporters of the community for decades, I understand that many are upset that we did not speak out against the bill," he added, via THR. "We were opposed to the bill from the outset, but we chose not to take a public position on it because we thought we could be more effective working behind the scenes working with lawmakers on both sides of the aisle."
"We were hopeful that our longstanding relationships with those lawmakers could lead to a better outcome. Ultimately, we were unsuccessful," Bob continued. "I called Gov. DeSantis this morning to express our disappointment and concern that if legislation becomes law, it could be unfairly used to target gay lesbian, non-binary and transgender kids and families. The Governor heard our concerns, and agreed to meet with me and LGBTQ+ embers of our senior team in Florida to discuss ways to address them."
Bob Chapek notes that he will meet with Florida's Governor, Ron DeSantis, to discuss the bill.
The executive also announced a $5 million donation to organizations working to protect LGBTQ+ rights, including the Human Rights Campaign.
This outspoken approach comes after the controversial bill has already passed Florida's House and Senate, and is on to the Governor's desk to be signed into law.
Disney has received A LOT of backlash over keeping quiet on the matter, seeing as they are one of the largest employers in Florida, with the Walt Disney World Resort.
Many current and former Disney employees have taken to social media to share their disappointment for the company's lack of speaking on the bill publicly and decrying it.
Former Andi Mack star Lilan Bowden was one of those speaking out. See what she said!
See what Bob Chapek said in an email to staff earlier this week, in regards to the bill.
Like Just Jared Jr. on FB