Wed, 09 March 2022 at 7:58 pm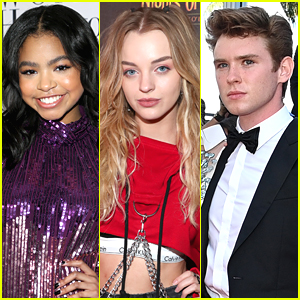 More casting has just been announced for The CW's Gotham Knights pilot!
Disney stars Navia Robinson and Olivia Rose Keegan, as well as Oscar Morgan, have been added to the growing cast, Variety reports.
"Been dreaming about the Gotham universe since I can remember. Does my comic book wall file under manifestation?! You tell me! Very excited and grateful. 🦇," Navia shared on Instagram.
"🦇🃏 ……??!!! What is life??!!!!! So grateful and excited to be joining this kickass team," Olivia shared on her account.
Click inside to learn more…
Navia has been cast as Carrie Kelley, who is described as "fearless, idealistic and plucky as hell, Carrie talked her way into being Batman's unlikely sidekick. If there's a burning building or a person in need, she's the first to rush in. Just as long as she's home by curfew."
Carrie's different aliases throughout DC Comics include Robin, Catgirl, Batgirl and Batwoman.
Olivia will play Duela, who is "as abrasive, unpredictable and a little unhinged, Duela is, above all, a survivor. Born in Arkham Asylum and abandoned by her father – the most dangerous man in Gotham – Duela forged herself into a brutal fighter and skilled thief."
Duela has been Joker's daughter, Penguin's daughter, Catgirl the Catwoman's daughter, Scarecrone the Scarecrow's daughter, the Card Queen and Harlequin in different comics. The character has also been a member of Teen Titans and Titans East.
Oscar will portray Turner Hayes, who "despite the murder of his biological parents, Turner remains resilient and driven to live up to his billionaire adoptive father's name. While charming and soulful, Turner has never quite felt comfortable in this world of wealth and privilege."
ICYMI: Find out who else has been cast in Gotham Knights!
Navia of course previously starred on Disney Channel's Raven's Home. However, fans were surprised that she was not going to be apart of the show's upcoming fifth season, along with three other stars.
Olivia will be seen later this year on season three of High School Musical: The Musical: The Series, which is currently in production in Los Angeles.
Oscar has recently been seen in the French film De Son Vivant, and will be in the upcoming series Masters of the Air for Apple TV+, which also stars Austin Butler and Callum Turner.
Like Just Jared Jr. on FB