Wed, 09 March 2022 at 1:08 pm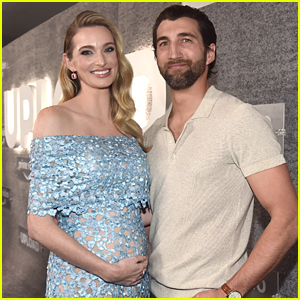 Clayton Snyder and Allegra Edwards make their red carpet debut as a couple at the season two premiere of Upload on Tuesday (March 8) in West Hollywood, Calif.
The former Lizzie McGuire star showed his support for his wife, who is expecting their first child together.
Allegra of course stars in Upload as Ingrid, and the second season premieres THIS Friday (March 11).
Though the couple has been together since at least 2019, based on their first Instagram posts together early that year, this is the first time they've hit a red carpet together.
Clayton and Allegra were married in October 2020, and in January 2022, they announced that they were expecting a baby.
Check out their announcement posts inside…
"🎉Baby Snyder is arriving this summer!!! 🎇🎊🎆🎉🌌🎈🌠 Clay and I are overjoyed and so anxious to meet this little one. As you'll see in these ultrasound pics, the baby is definitely *ours*—all long limbs and ridiculous poses. This kid is already making us laugh out loud! And…I couldn't dream of a better partner to have by my side as we embark on this new adventure. Love you @heyclaytron Thankful thankful. ❤️" Allegra wrote on Instagram.
"July 2022. Praise God for this miracle. Already sparking so much joy. We cannot wait to meet you. I mean, we definitely can. Please wait until you're due. Thanks. @arosebyname you are already an incredible mother," Clayton wrote on his account.
A belated congratulations to the happy couple!!
See more photos in the gallery of Allegra Edwards and Clayton Snyder at the Upload premiere…
Like Just Jared Jr. on FB