Tue, 15 March 2022 at 8:07 pm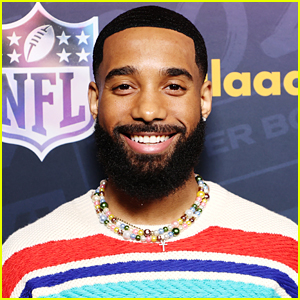 Philemon Chambers has been cast as a series regular on the Walker prequel spinoff pilot!
The Single All The Way actor joins the cast of Walker: Independence as Augustus, or Gus, Deadline reports.
"Guess the horse is out the stable 🐎I'm excited to be sharing this news with you all and looking forward to you all meeting Augustus 🤠!" Philemon shared on Instagram.
He joins Matt Barr, who was previously announced to lead the potential new series.
Find out more inside…
Augustus is "a striking Black man with eyes filled with a world of experience, Gus is the deputy sheriff in Independence. Polite, careful, even-tempered, and genuinely willing to help, he's not giving out his opinion of his new boss, Tom Davidson, to anyone."
The Walker prequel is set to follow Abby Walker, who begins a quest for revenge after her husband is murdered before her eyes while the couple is heading out West. Along the way, she crosses paths with Hoyt Rawlings, a rogue in search of purpose. Their journey takes them to Independence, Texas, as they form a newfound family who struggles with the world around them.
Also recently announced to join the cast are Greg Hovanessian, Lawrence Kao and Justin Johnson Cortez.
Get the scoop on their characters below…
Greg has been cast as Tom Davidson, "the new Sheriff in Independence. Tom's handsome for someone you don't know is the devil. And Abby has reason to believe that Tom is a very bad man indeed. Quick to take over Abby's late husband Liam's job, Tom is now a smiling power in the town."
Lawrence will portray Kai, who is "a younger Chinese man with a kind face, fluent in English, and runs a local laundry, in partner with the older, more taciturn Bowen Sing. A former railroad worker, Kai has settled into his new life in Independence, where he meets Abby. He quickly befriends her, offering Abby her first meal and a friendly word of advice about staying in Independence."
Justin is set to play Calian. "A member of an Indigenous scouting party outside Independence, Calian speaks fluent English, and has mixed feelings about the influx of the white settlers out West. Calian is curious to their innovations, their music, their culture but remains wary about losing his tribal lands. After spotting Abby half-dead in the brush, Calian saves her and takes her to the outskirts of Independence — he knows better than to walk into town, escorting a white woman."
Get all the latest news on Walker and Walker: Independence here!
Like Just Jared Jr. on FB