Thu, 17 March 2022 at 3:35 pm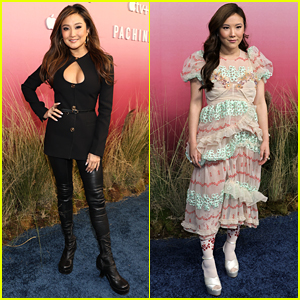 Ashley Park wears all black while attending the premiere of the new show Pachinko at The Academy Museum on Wednesday (March 16) in Los Angeles.
The Emily In Paris star showed her support for the upcoming Apple TV+ series, along with Ally Maki, Alan Kim, Richa Moorjani and Jimmy O Yang, with girlfriend Brianne Kimmel.
Pachinko will be told in three languages – Korean, Japanese and English, and will debut it's first three episodes at once on March 25th, followed by a weekly release.
Here's a synopsis: Epic in scope and intimate in tone, the story begins with a forbidden love and crescendos into a sweeping saga that journeys between Korea, Japan and America to tell an unforgettable story of war and peace, love and loss, triumph and reckoning.
Ashley recently shared a fun story about her Emily In Paris audition and who she met on her way to the audition.
Find out more inside…
"I was rushing to this audition over a lunch break… I was on a train, that I'd never been on before. I was running late and I like never look at my audition sides in public. I don't know why, 'cause it feels private… But I was 'cause I was cramming these lines in," she said on The Kelly Clarkson Show.
"Then I feel this tap behind me, and it's this girl and she has all these Doc Marten bags and she's like, 'I'm so sorry. This is so random. I just saw that it says Emily In Paris and Mindy. I'm actually going to a fitting with Lily Collins right now, and I just, it's so random. We haven't cast this part yet,'" she continued.
"And I was like, oh my gosh, the universe, I don't have to look at these lines," she said. "It was one of those New York moments that went by so fast. I went to the audition and fast forward, I ended up getting it and I was in Paris, and I told Lily this story."
"I was like, 'Lily, this is so crazy. Like it was meant to be, I met this girl and she had the Doc Martens.' And then apparently Lily told Patricia Field, our costume designer and her team. And one of the associates named Erica was like, 'That was me on the train.'" she said. "So she came up to me during my camera test and was like, 'Ashley, I need to tell you something. The reason that I was even looking over your shoulder and saw the sides was because I had just taken a photo of you to send to Patricia as inspiration for Mindy's fashion in the show.'"
Click through the gallery to see more photos from the Pachinko premiere…
Like Just Jared Jr. on FB