Tue, 22 March 2022 at 2:14 pm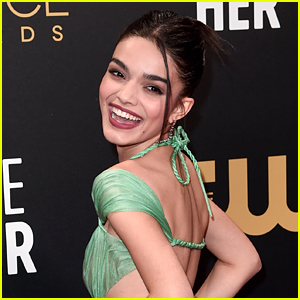 Rachel Zegler could be attending the 2022 Oscars this weekend after all!
If you didn't know, the 20-year-old actress previously revealed that she wasn't invited to the big awards show, despite being the lead in West Side Story, which is nominated for multiple awards including Best Picture.
Keep reading inside for more…
After posting a slideshow on Instagram over the weekend, one fan commented that they couldn't wait to see what she wears to the Oscars, to which she replied, "I'm not invited, so sweatpants and my boyfriend's flannel."
Then Rachel followed up after people commented their disliking that she wasn't invited.
"I have tried it all but it doesn't seem to be happening :') I will root for west side story from my couch and be proud of the work we so tirelessly did 3 years ago," she wrote. "I hope some last minute miracle occurs and I can celebrate our film in person but hey, that's how it goes sometimes, I guess. thanks for all the shock and outrage— I'm disappointed, too. but that's okay. so proud of our movie. ❤️" she said in another comment.
The next day, a possible reason for Rachel not being invited was revealed, alluding that it was the production studio (20th Century/Disney) that didn't extend the invite, not the Academy.
A source shared that the studios only get a certain amount of tickets to hand out. They also noted that it would be different if she was a presenter or a nominee, which leads us to the latest update.
On Tuesday (March 22), THR revealed that the Academy has extended an invite to Rachel, following the massive internet outrage, to be a presenter!
"THR hears that efforts are being undertaken to rearrange the film's shooting schedule to enable Zegler to be at the Oscars," the site said.
Rachel has been in London filming the upcoming live action Snow White movie. The Oscars are only five days away, taking place on Sunday (March 27) in Los Angeles.
Like Just Jared Jr. on FB