Tue, 22 March 2022 at 1:49 pm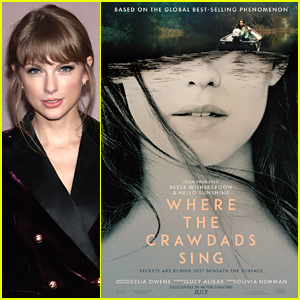 Taylor Swift surprised fans with a brand new song in the trailer for the upcoming movie Where The Crawdads Sing!
A snippet of the song "Carolina" can be heard in the trailer, which was just released on Tuesday (March 22).
Taylor wrote the song by herself, specifically for the movie, as she is a big fan of the book of the same name.
Listen to the song and learn more inside…
"Where The Crawdads Sing is a book I got absolutely lost in when I read it years ago. As soon as I heard there was a film in the works starring the incredible @daisyedgarjones and produced by the brilliant @reesewitherspoon, I knew I wanted to be a part of it from the musical side. I wrote the song 'Carolina' alone and asked my friend @aarondessner to produce it. I wanted to create something haunting and ethereal to match this mesmerizing story. You'll hear it fully soon, but for now check out the @crawdadsmovie trailer for a clip!" Taylor shared on her Instagram.
Daisy Edgar-Jones stars in the upcoming movie, based on the book of the same name by Delia Owens, with Reese Witherspoon as a producer.
Here's a synopsis: Where the Crawdads Sing tells the story of Kya, an abandoned girl who raised herself to adulthood in the dangerous marshlands of North Carolina. For years, rumors of the "Marsh Girl" haunted Barkley Cove, isolating the sharp and resilient Kya from her community. Drawn to two young men from town, Kya opens herself to a new and startling world; but when one of them is found dead, she is immediately cast by the community as the main suspect. As the case unfolds, the verdict as to what actually happened becomes increasingly unclear, threatening to reveal the many secrets that lay within the marsh.
Taylor John Smith, Harris Dickinson, Michael Hyatt, Sterling Macer Jr and David Strathairn also star.
The film is set for a July 15th release.
Check out the trailer below to hear the clip of Taylor's new song!
Like Just Jared Jr. on FB