Fri, 25 March 2022 at 1:45 pm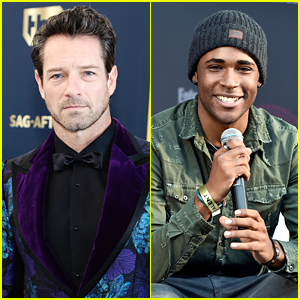 The cast of Teen Wolf: The Movie just got a little bigger!
The upcoming Paramount+ film is in it's first week of filming, and five more actors have been announced.
Among those just revealed to have joined the cast are two original Teen Wolf stars Ian Bohen and Khylin Rambo, according to Variety.
Ian will reprise his role of Peter Hale, while Khylin will return as Mason Hewitt.
Find out who else is joining the cast inside…
Also joining the movie are Vince Mattis, Nobi Nakanishi and Amy Lin Workman.
Vince will play Derek Hale's 15-year-old son, Nobi will play Deputy Ishida and Amy is set as Hikari Zhang.
Nobi was actually on the original series, where he played Young Katashi.
In Teen Wolf: The Movie, a full moon rises in Beacon Hills, and with it a terrifying evil has emerged. The wolves are howling once again, calling for the return of banshees, werecoyotes, hellhounds, kitsunes, and every other shapeshifter in the night. But only a werewolf like Scott McCall (Posey), no longer a teenager yet still an alpha, can gather both new allies and reunite trusted friends to fight back against what could be the most powerful and deadliest enemy they've ever faced.
If you missed them, check out photos from the first day on set!
Find out who else is returning for Teen Wolf: The Movie.
Ian Bohen recently had a recurring role on the second season of Superman & Lois, reuniting with former Teen Wolf co-star Tyler Hoechlin.
Like Just Jared Jr. on FB