Mon, 28 March 2022 at 4:53 pm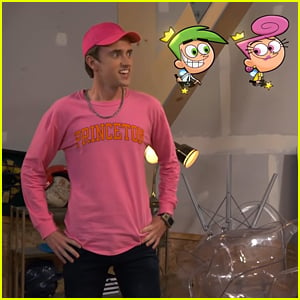 The Fairly OddParents: Fairly Odder is premiering this week and we're diving into the upcoming new comedy series!
The live-action/animation reboot of the original Nickelodeon series debuts THIS Thursday (March 31) on Paramount+.
In the trailer and in the series, we meet a grown up Timmy Turner, and if you're wondering who the actor is, it's Caleb Pierce!
"YALL!! Had the chance to be part of an incredible project with the greatest people😭🙌🏻🙌🏻 I would say '13 year old me is flipping out' but lets be honest – 28 year old me is just as excited 😂😂😂" Caleb shared on Instagram after the trailer dropped.
Find out more about Caleb inside…
In the trailer for the upcoming show, Timmy introduces his fairly godparents to his younger cousin Viv (Audrey Grace Marshall), who he is passing them on to.
"I want you to meet the two best things that's ever happened to me!" he says, unleashing Cosmo and Wanda from his backpack. Watch the trailer here!
Here's a synopsis: Ty Turner uproots his life to reunite with his high school sweetheart, Rachel Raskin, in the town of Dimmsdale, thrusting his cautious 13-year-old daughter, Viv, into a new world where she does not fit in.
Once there, Viv's cousin, Timmy, entrusts his fairy godparents, Wanda and Cosmo, to help her adjust by taking her under their wings. Witnessing the fairy transfer take place, Viv's charismatic new stepbrother, Roy, also inherits them, and the two siblings must take turns making wishes. Together, they learn to overcome the obstacles in their path, all with the help from their new wand-wielding and wish-granting fairy godparents.
So, who is Caleb Pierce??
The actor is 28 years old and got married to his love Megan in February 2020.
Caleb has actually guest starred on several other shows, including Disney Channel's Coop and Cami Ask The World, 9-1-1, The Big Bang Theory, Veep, Mom, Grey's Anatomy, Insecure and The Real O'Neals.
You can follow him on Instagram at @coolcoolcaleb!
Like Just Jared Jr. on FB