Tue, 29 March 2022 at 8:04 pm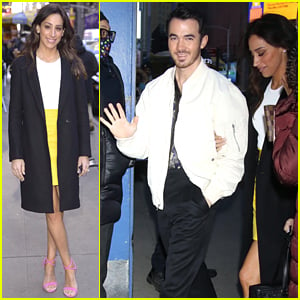 Kevin and Danielle Jonas head out after an appearance on Good Morning America on Tuesday morning (March 29) in New York City.
The couple were on the show to promote their brand new book, "There's a Rock Concert In My Bedroom," which was released that same day.
"Working together is great because, you know, working with your best friend is always wonderful," Kevin told the GMA hosts. "We've always wanted to do a children's book, but then we thought maybe we should have kids first, and then they took the toll. Then once that happened, we just were living our life with our daughter, she was working on her dance recital, got in her own head and really kind of got in her own way. So we just flipped the music on and started dancing and having a great time, and kind of used that as the inspiration for the story."
But, would they do another book together?
See what they said inside…
"Oh, for sure," Kevin said as Danielle nodded. "We're really excited about this book and I can't believe it's actually out today. It's so awesome to feel that, but I would love to continued the stories of these, this great family that we have in this book that we've made. There's lots of stories to tell, for sure."
Kevin and Danielle were also on The View that same morning, where he was asked how things are going with the Jonas Brothers.
"It's been great. We're living individual lives at the moment. We're hopefully going back into the studio really soon," he said. "We have shows in Vegas this June, which will be really great. We love to play, we love to be out there. The fact that we're making music together again after so many years is great."
AH! We hope they do get in the studio and release new music soon!!
Kevin and Danielle's book, "There's a Rock Concert In My Bedroom," is a rip-roarin', rock 'n' roll picture book about the joy of music, the power of family, and facing your fears. But the more Emma hears about the amazing talents her classmates will bring, the more nervous she gets. What if her guitar playing is more of a plink, plonk, squeak?
She's suffering from a bad case of stage fright, and it's up to her family to show her that performing can be fun too, and that she's already a star.
You can purchase the book HERE!
If you missed it, Kevin was at the Oscars this past weekend, where he performed with Reba McEntire.
It was also just recently announced that Kevin and his younger brother Frankie are co-hosting a new show!
Like Just Jared Jr. on FB