Thu, 31 March 2022 at 1:31 pm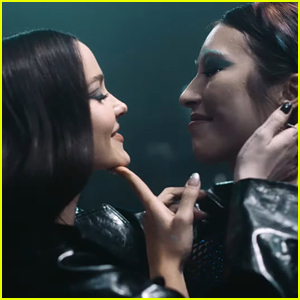 Dove Cameron has released the music video for her latest single "Boyfriend"!
The 26-year-old stars in the visual alongside Charlene Lefever, with direction by Lauren Sick.
"Boyfriend" has become quite the hit song and is even climbing the Billboard Hot 100 chart. It currently sits at No 42, after climbing from 49 last week.
Click inside for more and to watch the video…
"It's really hard to make a queer anthem that feels radio-friendly and that is kind of cross-genre. And to me, 'Boyfriend' is important because it's a song that could easily be about a straight relationship, but it's not," Dove recently said on the Spout podcast. "I could hear a boy singing it about a girl, a girl singing about a boy, and I'm obviously queer, and it's really important for me to represent that in my music. I just like that it's a sort of like a very normal, natural integration of the queer love story into the general public. It's really amazing."
"It's highly emotional to me that, like, there was no engineering around this; there was no big noise made. There was no promo; there was no planning. It was like a totally natural thing from, like, the internet, and it resonated naturally with people," she said of the song's natural success. "So, to have something that feels so interpersonal to me, and so romantic, and so straight off the pages of my journal, is something that resonates with people in that way, it's emotional."
FYI: Dove is wearing a CultNaked top in the video.
Like Just Jared Jr. on FB