Mon, 04 April 2022 at 7:27 pm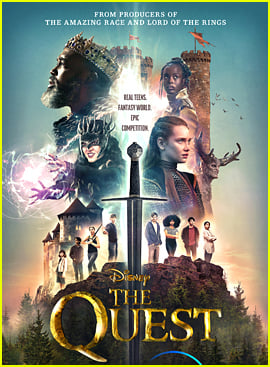 Disney+ has revealed it's new fantasy series The Quest!
The streaming service unveiled the first look at the upcoming reality competition show over the weekend at WonderCon.
Here's a synopsis: For thousands of years, Everealm has been a land of unrivaled beauty and powerful magic. Now, the realm is threatened by a powerful evil Sorceress. As a last hope, the noble Fates summon eight strangers known as Paladins from a world beyond to work together to fulfill an ancient prophecy and vanquish the Sorceress. The Paladins must unlock the hero within through a series of challenges that push their limits to restore balance to Everealm. If they fail, all will be lost. Heroes will rise. Kingdoms will fall.
Click inside to watch the trailer and get more info…
The Quest "drops eight real-life teenagers (Paladins) into the fantastic, fictional world of Everealm, where they must save a kingdom by fulfilling an ancient prophecy. Throughout the eight-episode series, these heroes are immersed in a fantasy world come to life, complete with a castle, royals, ethereal fates, all forms of mystical creatures and a sorceress intent on destruction and power."
The upcoming immersive, hybrid competition series comes from the teams behind The Lord of the Rings, The Amazing Race and Queer Eye, and features both scripted and unscripted content, "where fantasy and reality collide as the teens compete in challenges in a fully-realized world of adventure. Each Paladin's mind, body, and soul will be put to the test with new surprises around every corner of the unknown land, changing not only the fate of Everealm, but also their own."
The Quest will debut on May 11th. Check out the teaser trailer now!
Like Just Jared Jr. on FB