Wed, 13 April 2022 at 7:45 pm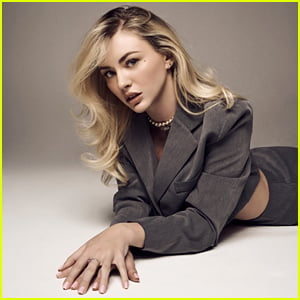 Johanna Liauw is a breakout star of this year's Tall Girl 2!
The actress joined the cast of the sequel as Stella, the Swedish sister of Luke Eisner's Stig Mohlin.
"Stella is super fun and energetic. She loves to experience life to the fullest. She's also a foodie, you'll kind of see that in the film! And, I most certainly relate to her on those levels. She was an absolute joy to bring to life," Johanna told Wonderland about her character.
The actress started her acting career over quarantine, having written and starred in the web series Quarantine Leap, then landing roles in LifeTime movies The Wrong Cheerleader Coach and College Professor Obsession.
Now, we're getting to know more about Johanna with 10 Fun Facts!
Learn more inside…
Check out her fun facts below…
1. I was born two months early, and I weighed 9lbs 9oz! If my mom went full-term, I could've easily been 12-13lbs.
2. My favorite place that I've traveled to would hands down be Santorini. It's a slice of heaven!
3. Hydrangeas are my favorite flower.
4. I love paranormal phenomenon's; I find them very intriguing.
5. My jaw cracks every time I open it. I should probably get that checked out haha.
6. I fully believe in and practice Divination.
7. If I could only eat one kind of food for the rest of my life, I'd choose Mediterranean/Middle Eastern cuisine!
8. Record players > Alexa speaker, any day.
9. My favorite movie of all time is The Labyrinth.
10. I have an irrational fear of frogs. They're cute, don't get me wrong, but their skin texture freaks me out. Even the thought of them is putting me on edge haha!
Be sure to catch Johanna Liauw in Tall Girl 2, now streaming on Netflix!
Like Just Jared Jr. on FB