Wed, 13 April 2022 at 4:52 pm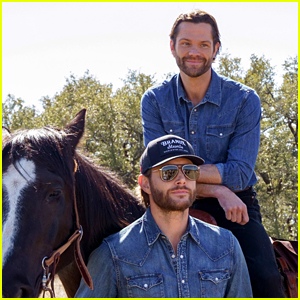 Jensen Ackles is dishing on working with Jared Padalecki again, this time on the set of Walker!
If you didn't know, the 44-year-old actor reunited with his former Supernatural co-star to direct this week's episode of his new CW show.
In a new interview, Jensen revealed what it was like directing something other than Supernatural, reuniting with Jared and teasing some Easter eggs in the episode.
Find out what he said inside…
"It was still a friendly set. [Laughs] Jared had laid the groundwork of like, 'This is my brother. I'm here because of what he and I built together.' He gave a great speech to the whole crew, saying, 'We wouldn't be here without the work that this guy did with me.' I was vouched for by the commander-in-chief, so although I was a guest in someone else's house, it was a house that felt very welcoming," Jensen shared about walking onto set.
He also dished how they were able to get right back into their shorthand that they had on Supernatural.
"It was fun to get back into the shorthand with him with performance notes, with technical notes. I can even use a reference to a movie and he knows that I'm actually giving him a note," the The Boys actor said. "There's nobody else I can do that with. He and I have that, and we'll always have that. That's not something that fades away."
As for any Supernatural Easter eggs in the episode?
"Katherine Alyse, who wrote the episode, knows Supernatural very well and essentially wrote a lot of Easter eggs. I was either like, 'Oh, I can absolutely do that' or, 'I can level that up.' We definitely tried to pepper in the Easter eggs when we could."
If you didn't know, Jensen is also executive producing a Supernatural prequel pilot for The CW.
Like Just Jared Jr. on FB