Thu, 14 April 2022 at 3:48 pm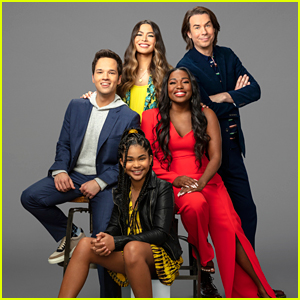 The showrunner of the new iCarly reboot, Ali Schouten, is dishing on the returns of original characters.
There have been several characters from the OG Nickelodeon series that have already appeared on the reboot.
Now, Ali is opening up about bringing back the different characters, and who she wants to see make a comeback.
Click inside to read more…
"We love having people coming back from the original show. It's a fun thing to imagine where they'd be today, one of our favorite things to do in the writers room. The Lewbert episode is going to be really fun. We love Mrs. Benson. You get to see a lot of her this season, much more than in Season 1. And we might have a few more surprises as well," Ali told Collider recently.
On who she wants to see make a return on the new iCarly, one of her choices is also originally from another Nick show!
"Victoria Justice, either as Tori or Shelby Marx. T-Bo (from the Groovy Smoothie, played by BooG!e) would be awesome," she shared. "We're always trying to take the characters in new directions, so really anyone! It's fun to see the fans' reaction when the trailer comes out, and they see a familiar face. As we tell the cast, 'the door is always open!'"
If you didn't know, the Groovy Smoothie will be back in season two, as teased in the trailer, so maybe we could be seeing T-Bo soon!
If you missed it, see ALL of the OG characters that have returned on iCarly – so far.
Like Just Jared Jr. on FB