Fri, 22 April 2022 at 3:37 pm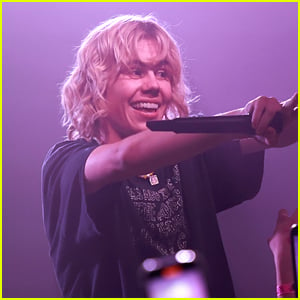 The Kid LAROI hits the stage for a concert at Lodge Room on Thursday (April 21) in Los Angeles.
Later that night, the 18-year-old musician dropped his new track "Thousand Miles," as well as the music video.
"It was just [Andrew] Watt just had this guitar idea that he had made and he just pulled it up and I just started ripping it at his house on the mic. And we just put it together and then we went and took it to Lou to go in on the production with Watt," LAROI told Apple Music about the song.
"And yeah, I mean, the rest is… I mean, yeah, we kind of made that song. I loved it. At the time, I was like, oh my gosh, I love this song so much," he added. "I just put it up and I guess the fans just really… They liked it. And I guess, I don't know. Let's just give it to them. it's been like 10 months since I dropped music, and 10 months in internet time is like 10 years."
Check out the new song and more inside…
The Kid LAROI also gave an update on his long-awaited debut album.
"I'm going somewhere for two weeks in a couple days to hopefully finish and be done with the album. Then I'm going on tour and dropping, maybe after 'Thousand Miles,' maybe one or two more singles, and then it'll be time for the project. So I'm excited. I'm excited. I'm really excited. I am," he shared.
"The new album is going to have a lot of that [rapping and singing]. It'll have a good balance. Not saying that the other stuff won't be on there, but it'll have a good balance," he dished. "And I think that's the one thing I think my fans who have been with me from the beginning….Always hear them say, 'When are you going to rap? When are you going to rap? We miss when you used to rap. You went pop. You're a pop star now.'"
"And I don't know. I never look at music like that. I don't think it's like, okay, now I'm transitioning to be pop or now I'm doing this. I just kind of always just make whatever I make and then whatever comes out, whatever I think is the sickest s**t, I just put out," The Kid LAROI shared. "I never really think of it as, all right, I'm staying away from rapping and now I'm just going to be a pop singer or whatnot. I always just kind of just go in there and make it. So sometimes I'll go months where I just want to make f***ing singing a** s**t. You know what I'm saying? And then other times I'll just want to make other s**t."
Check out "Thousand Miles" now!
Like Just Jared Jr. on FB