Thu, 28 April 2022 at 5:23 pm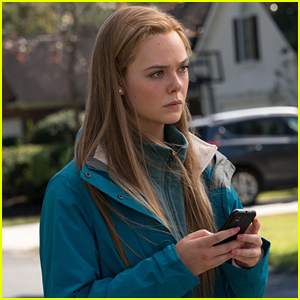 Elle Fanning is opening up about her latest role in the Hulu limited series The Girl From Plainville!
The 24-year-old portrays real life person Michelle Carter in the series, about the "texting-suicide" case based on the Esquire article of the same name by Jesse Barron.
In a new interview, Elle dished on not speaking to Michelle before filming the show.
See what she said inside…
"I did not [speak to anyone involved in the case]. I didn't feel that it was appropriate for me to reach out to Michelle," Elle told Variety. "I know that [creators] Liz [Hannah] and Patrick [Macmanus] spoke to people on the Roy side. It just wasn't something that I felt like I needed to for my part. I am playing a real person, but it's our version of her and it is a character. At the end, you want to bring sensitivity to the story, but then, also, I had to remove myself."
Elle also commented on the toughest part of the process of making the show.
"It was a difficult process. It was a challenge. I think the toughest part was to balance the fiction and reality. That's a theme throughout our show — balancing fantasy and reality. This is a real story, and you need to be sensitive to that, but then we have to also create a show and think about things in a cinematic point of view," she said.
"Being a producer on it, I was able to have more responsibility and watch edits and collaborate to make sure that it didn't feel one-sided," Elle continued. "I just wanted to tell the truth of it and show these people for more of what they were, not what the media portrayed [them to be] to all of us."
If you missed it, find out what Elle did before signing on to the series.
Like Just Jared Jr. on FB