Thu, 28 April 2022 at 6:50 pm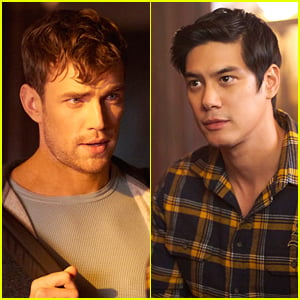 There's a new love story on Legacies, and it's one we haven't seen before in a TVD franchise series – two guys together!
Zane Phillips and Ben Levin are the actors portraying Ben and Jed, respectively, who start to form that relationship on the CW show.
In a new interview, the actors opened up about their characters burgeoning romance, kissing on screen and more.
Click inside to read more…
On their big kissing scene, Zane revealed that Ben just really went for it, after the two had built up this IRL friendship.
"We had done the wide shot [for that scene] and Trevor [E.S. Juarez], our director for that episode, was like, 'Hey, you guys don't have to do the kiss for this if you want to keep it fresh.' [But Levin] f–king planted it on me regardless, and I think every single take I made a little noise—a little 'uh,'" Zane shared with Observer. "It is this sort of release between these two characters, and I think this relationship in the show is this constant tension and release, because we are seeing these guys both with a lot of trauma, both not having unwrapped themselves in this way ever before."
Ben, who is a straight actor, expressed that he was initially wary of overstepping, but when he learned about Jed's backstory, adding the introduction of the character Ben helped awaken a part of Jed.
"Jed listens to Ben's story, and I think that very detailed retelling that we see is kind of what really propels Jed to feel that deep connection," Ben told the site. "Now it's about that sliding scale of sexuality and coming into my own and realizing that that the way I've been behaving was because of that repression and trauma."
"The way our patriarchy works, it doesn't allow men of any sexuality to feel the fullness of who they are. It doesn't allow them to explore feelings, intimate friendships or anything like that," Zane added. "[Legacies] does pursue intimate male friendship, and it does pursue this sort of coming out—and the trauma to do with coming out isn't from what people would think. That's why I think it's refreshing."
Be sure to tune in to Legacies TONIGHT (April 28) on The CW for a brand new episode, where Jed finds himself needing to make a very difficult choice.
Like Just Jared Jr. on FB