Wed, 04 May 2022 at 3:37 pm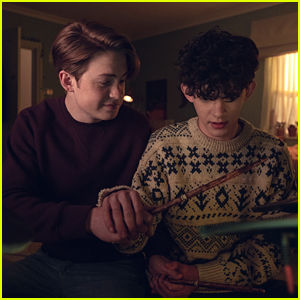 More and more people are watching Heartstopper!
Netflix has released their latest "Top 10 Most Watched" lists, and the teen series is climbing the English television list.
For it's second week on the list, which is dated April 25-May 1, Heartstopper jumped up two spots to No 5.
Keep reading to find out more…
Netflix viewers have watched the series for 23,940,000 hours, globally, which is almost 10 million more than the first week.
In addition, Heartstopper has made it to the Top 10 in TV in 54 countries across the world, four and a half times more than week before. The show has been in the Top 10 in Brazil, Canada, Israel, Lebanon, Australia, Costa Rica, Peru, Uraguay, and many more!
One of the shows stars Joe Locke, who plays Charlie Spring, reacted to the news.
"And our show is only 4 hours long 🤯 Against shows that are like 12 hours long 🤯🤯🤯," he wrote on Instagram story.
The week before, the show was No 7 after only TWO days on the platform!
During a recent interview, Joe and his co-star Kit Connor, who plays Nick Nelson, urged fans to keep watching, and for more people to keep watching, in order for it to be renewed for a season two.
"We need everyone to watch season 1 first or else we won't get a season 2," Joe shared with EW. "Go watch it, otherwise it won't happen!"
"For sure, season 1 is the priority," Kit added.
In case you missed it, see what Joe and Kit shared about what they want to see in a second season!
Like Just Jared Jr. on FB