Mon, 09 May 2022 at 9:28 pm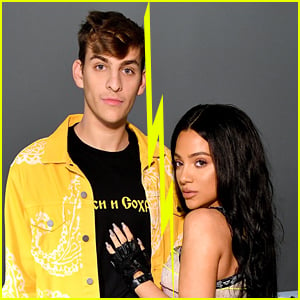 Gabi DeMartino is confirming her split from fiancé Collin Vogt.
The 27-year-old YouTuber and singer shared a brief update on her relationship status on Monday (May 9) in an Instagram Story.
See what Gabi shared inside…
"hiii if you didn't see my last vlog i definitely recommend watching it if you have any question or concern with my personal life and status," she shared in a note. "i'm not directly discussing my personal matters in my life right now because the past four months of my life have drastically changed and im giving myself time to mentally adjust."
"i am no longer getting married and it's been this way since the winter. i am totally okay, im editing a vlog as i write this, & i can't wait to talk to you then! love you and wishing you all an amazing monday / week," she added, along with a link to her latest vlog.
That same morning, Gabi shared on Twitter, "privacy is peace. not hiding anyone or anything, just not comfortable giving answers and i don't have to right now. 🤍 and that's okay."
In Gabi's most recent vlog, which was posted last Tuesday (May 3), the singer shared that "it's very obvious something's going on in my personal life and has been since the winter."
She then went on to say that she won't talk about anything until she is ready, and that she doesn't owe an explanation or story.
"Basically what has occurred in my life has occurred for like three or four months now and this life change is something that has really taken a toll on my personal life, and my entire life is my vlogs, and is this channel so I'm kind of sorting through those personal things before I bring them to the internet," Gabi says in her video.
"I think you guys are pretty smart and can put two and two together. It's just hard to talk about. It's embarrassing," she added. "I just hope you guys could please focus on more positive things in the comment section. I understand if you guys are confused and want an answer, but it's not going to be this week."
"I'm really well, I'm great, and if you guys have any worry or concern for me, I'm doing really amazing and you know, there's good days and then there's bad days."
That week, Gabi also addressed the breakup in the comments section of an Instagram post featuring photos from her album release/birthday party.
"i am not hiding anything & i have and will continue to keep my personal life to myself all while continuing to live my life online. this right here is my life and way back when deciding to have kept my break up private, i expected conclusions to be made," she said.
Collin has also released his own statement on Instagram regarding the breakup. Keep scrolling below to read what he shared with fans…
Gabi and Collin were together for five years before getting engaged in November 2020. He also just recently appeared in her "Broken Morning" music video.
If you haven't already, go listen to Gabi's debut album Paintings of Me!
Collin's statement on the breakup
"Hey guys!
It's been a few months of us keeping things private but it's time to tell you that Gabi and I mutually decided to not move forward with our wedding and we are not together right now. At first we used the word postpone. We did not know how to say this publically as you can imagine its hard to deal with as is, But then there's the audience. We still consider each other best friends and we share an amazing animal family together. You will still be seeing all of us together online but things have been different for a while . Nobody cheated and nobody was hurt in the process of a very thought out decision that is best for us both right now. We are not enemies and there is no drama around this in our personal lives. The future remains unknown and we would appreciate privacy during this gray area.
Your Favorite! Collin"
Like Just Jared Jr. on FB