Fri, 13 May 2022 at 5:43 pm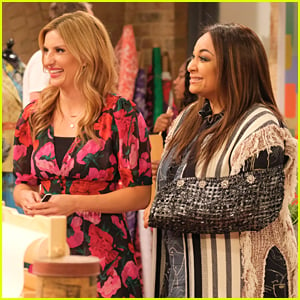 Raven's Home is celebrating a milestone 100th episode this season and someone special is returning!
Fan favorite Anneliese van der Pol will reprise her character Chelsea for the upcoming episode, ET confirms.
Click inside for more…
Also for the episode, Raven will be stepping behind the camera to direct.
"It feels exactly what you would imagine. It feels nostalgic. It feels like coming home," Anneliese told ET. "It is the 100th episode of Raven's Home and also the 200th episode of the franchise of That's So Raven, so it's just incredibly full circle. I'm so proud of Raven [Symoné]. It's great to be back with all my old friends, the crew and the cast. Then, of course, Raven's directing, and it's just so amazing to see her blossom, and to be a part of something that's meant so much to so many people, not just myself."
Anneliese, who has been performing across the US on the Disney Princess: The Concert tour, also dished on what it was like coming back, after leaving the show after season four.
"I wasn't sure how I'd feel. A little indifferent, of course bittersweet missing anyone," she shared. "[But] no bitterness. Only sweetness. Just sweet, because I'm seeing so many people that I haven't seen. You realize it's all just creative, and the show, everything moves along with you. I've had an opportunity to take a step back from the show and do my own thing, which has been a really growing process for me. Amazing, like I said. When you're in the Disney family, you're in."
If you didn't know, the original series, That's So Raven, ended after it's 100th episode.
Find out what other Disney Channel shows have reached 100 episodes or more!
Like Just Jared Jr. on FB