Fri, 13 May 2022 at 8:10 pm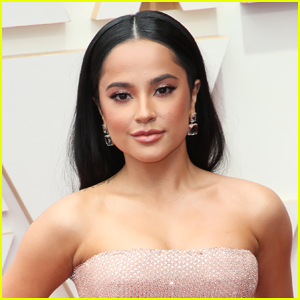 Becky G has had a double release day on Friday (May 13)!
The 25-year-old singer released her second album ESQUEMAS, as well as the music video for the song "Baile Con Mi Ex," the fifth track on the LP.
Click inside to see what she said about the album and to listen…
"I think ESQUEMAS is a really beautiful representation of that journey of self discovery in this phase of my life. Because I think it's funny, age and maturity are two very different things," Becky told Apple Music this week.
"I think a lot of people get it confused. A lot of individuals my age, I think, feel this pressure that we have to have all the answers and we have to have a plan and we have to execute. And it's the complete opposite for me. And so this album, when I was creating it, it was in two different phases of my life," she continued.
"And one phase of it was very dark and very emotional, very triggering for me. Very cathartic to kind of start the beginning of that phase of the album in a writing camp with three of my girlfriends in a house. And female producer, two female songwriters who've got me. And we were just vibing and it so much fun," Becky said. "It was a different experience for me to be a part of that and create under my own terms versus okay, this is the deadline and this is what we have to do. We were just creating just to create, because it was a pandemic. We weren't doing anything."
Check out ESQUEMAS and the "Baile Con Mi Ex" music video right here…
ICYMI: Check out the trailer for Becky G's upcoming movie with Machine Gun Kelly!
Like Just Jared Jr. on FB