Fri, 13 May 2022 at 7:08 pm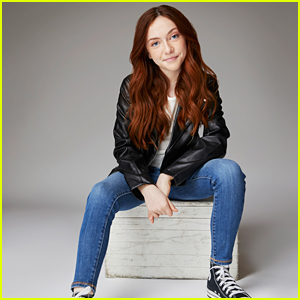 Caitlin Shorey is starring in the upcoming HBO Max television series The Time Traveler's Wife!
The young actress is making her TV debut in the show as Young Clare Abshire.
Adapted from Audrey Niffenegger's book of the same name, the story follows the intricate and magical love story between Clare and Henry (Theo James), and a marriage with a problem…time travel.
Keep reading to learn more about Caitlin Shorey…
Later this year, Caitlin will also make her film debut in Netflix's Mr. Harrigan's Phone, which is based on the Stephen King short story.
Ahead of the premiere of The Time Traveler's Wife on Sunday (May 15) on HBO Max, we caught up with Caitlin and got to know 10 Fun Facts about her.
Check 'em out below!
1. I have two older brothers who are very different than me. My oldest brother is a MP in the United States Marine Corp where he trains police dogs. My middle brother is a straight A student graduating from high school this year and getting ready to go to college. They are great role models.
2. When I am not acting, I really love to draw, especially people or anime characters.
3. Shortly before I was cast in The Times Traveler's Wife I was cast as Tamatoa's Left Claw in Moana Jr. Yes, that is correct, not Tamatoa, but his left claw who actually had lines.
4. I have two cats named Theodore Jellybean (TJ) and Arthur Jingle Bells (AJ). We named them after the holiday they were adopted on.
5. A few years ago after Christmas shopping for my mother, I came home to a big box in our living room. My mom told me it was a present for me and to open it. I lifted it up and my oldest brother was in the box. He surprised me by coming home from the Marines. I was so excited! My mom filmed it and posted on YouTube.
6. Before I started acting, I used to do natural pageants. In 2019-2020 I held the title of International United Miss Pennsylvania Jr. Preteen.
7. My love for Harry Potter ended up helping me on set of The Time Traveler's Wife. I had my first scene with Theo James and was a little nervous before filming began. Theo and I started talking about Harry Potter and my nerves went away. I think we had a really good scene after.
8. One of my favorite things to do in the morning is to make pancakes for my family.
9. I am very scared of heights. One of the craziest things I ever did was take a crane 40 feet up in the air and drop a huge pumpkin off it for charity at a local pumpkin festival.
10. I am very proud to have started The Caitlin Sings Project 4 years ago in honor of my mom's birthday. I use my love of singing to help raise money and awareness for Metastatic Breast Cancer and Inheritance of Hope (a nonprofit charity that helps families with children under 18 with a parent that has a terminal illness.) Through the project I was able to give back to charities that helped my family and were close to my mother's heart. My mom lost her battle with Metastatic Breast Cancer in July 2021. I Love You Mom!
Caitlin is also pictured here in the gallery at the premiere of The Time Traveler's Wife earlier this week in NYC. She wore a Dolce&Gabbana dress for the occasion.
Like Just Jared Jr. on FB