Tue, 17 May 2022 at 4:41 pm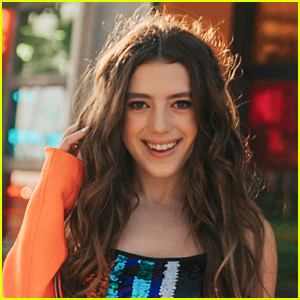 Symonne Harrison is opening up exclusively with JJJ!
The young TikToker can currently be seen starring as Molly in the third season of Brat TV's Crown Lake, about a class of students at the prestigious Crown Lake Academy.
Keep reading to learn more inside…
In the series, when new girl Molly starts at Crown Lake, she hears whispers of a bully who used to wield power over the students with nothing but a mysterious journal. It's considered a wives' tale now; anyone who knew the real story long ago graduated. But when Molly finds one of those journals wedged in her room, she has to figure out…who is Heather? Why did she disappear? And what does she want?
Molly is introduced to this exciting new world through her roommate, Ariadne, the youngest of three sisters who all go to Crown Lake. As Ari shows Molly the ropes, and the two try to put together the mystery of Heather, they find themselves in increasingly dangerous situations.
Symonne has also had appearances on Showtime's The Affair and on Nickelodeon's Hot Mess.
Crown Lake just debuted a new episode on Tuesday (May 17), "Take Back The Narrative," where Ari reveals her secret to the whole school, and Molly's hearing gets interrupted by a surprising turn of events.
In light of the new episode, we got to know more about Symonne with our 10 Fun Facts feature. Check 'em out, as well as the episode below!
1. I invented a product, Bear On The Chair and have a design patent.
2. I am very adventurous.
3. I like doing trapeze.
4. I competitively danced for 5 years.
5. I love to travel.
6. I don't like chocolate.
7. I am from Cleveland but moved to LA for acting.
8. I love meeting my fans.
9. I have a cute Maltipoo named Cali.
10. I am going on the Boys of Summer tour this summer.
ICYMI: Check out fun facts with Symonne's co-stars Lizzy Capri and Mya Nicole Johnson!
Like Just Jared Jr. on FB