Fri, 20 May 2022 at 6:24 pm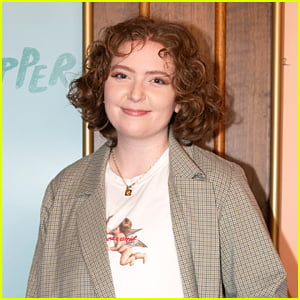 Alice Oseman is teasing the upcoming second season of Heartstopper!
If you didn't know, they are responsible for not only writing the book series the show is based on, but Alice also created and writes the hit Netflix series.
Recently, Alice has opened up about a season two, and what they plan to bring to the show, including a new romance.
Click inside to see what Alice shared…
"If we do get future seasons, I'll definitely want to be bringing in the themes of mental health, because that's something that's really important in the books. The challenge of writing Heartstopper is exploring those darker issues while keeping the tone so optimistic and hopeful. That has been, like, the struggle of writing it for me the whole way through," Alice told Digital Spy back in April.
"But I like to think that it's possible [laughs]. I feel like I have achieved it in the books," they continued. "I've been able to be very candid about mental health, and I explored that in a real way, while not writing something that's intensely triggering or really dark and horrible to read or watch. So that is very much my goal for the show."
Alice also confirmed that season two will move into volume three of the books, and a teacher romance will be explored on screen.
"If we do get a future season, we'll be moving into volume three of the books. And that is when the teacher romance happens. So in the show, we've already got Mr Ajayi, but in the books there's also Mr Farouk, who comes in, in volume three. And they have this kind of interesting friendship going on in the background that eventually becomes something more," they shared.
Of course, we already know that Heartstopper has been picked up for a second season, and a third season!
If you missed it, find out who Joe Locke and Kit Connor want to guest star in season two.
Like Just Jared Jr. on FB